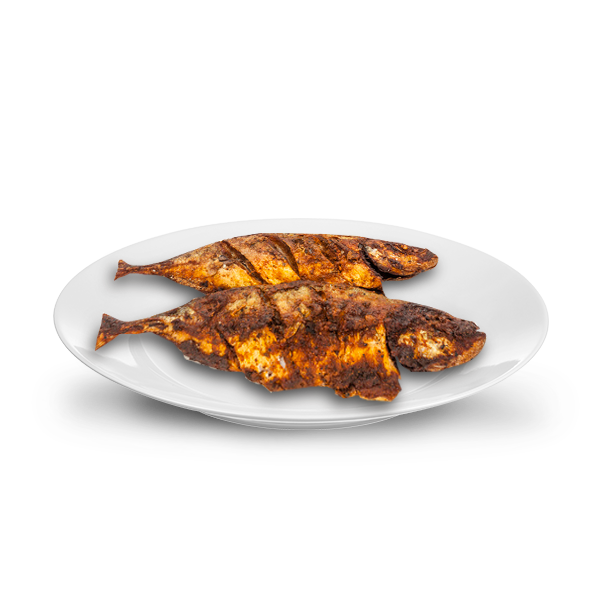 Zamin doz machli is fish buried underground. The cooking of this dish is an artistic way. The potters make clay pot specifically according to the size of the fish. It looks like that the dish is a cover for that fish. Fish is cooked underground with heat provided above the ground. The dish takes 7-8 hours to cook but its worth the wait. It is one of the special treats from Karachi to everyone out there.
1 kg fish (pomfret, kingfish or any other white fish)
2 medium onions, chopped
2 tomatoes, chopped
2 green chilies, chopped
1 tbsp ginger paste
1 tbsp garlic paste
1 tsp cumin seeds
1 tsp coriander seeds
1 tsp red chili powder
1/2 tsp turmeric powder
1/2 tsp garam masala powder
Salt to taste
Oil for frying
Clean and wash the fish. Cut into medium-sized pieces.
Grind the cumin and coriander seeds into a fine powder.
In a pan, heat oil and fry the fish until golden brown. Remove the fish and keep aside.
In the same pan, add chopped onions and fry until translucent.
Add ginger and garlic paste and fry until the raw smell goes away.
Add the chopped tomatoes and cook until they become soft and mushy.
Add the ground cumin and coriander powder, red chili powder, turmeric powder, garam masala powder, and salt to taste. Mix well.
Add 1/2 cup of water and let the masala cook for 5-7 minutes on medium flame.
Add the fried fish to the masala and mix gently.
Cover and cook for 10-15 minutes on low flame.
Garnish with chopped green chilies and coriander leaves.
Serve hot with rice or naan.
Enjoy your delicious Zamin Doz Machli!
We are Open for everyone! if you are serving this food in your restaurant or cafe, and you are interested to advertise your restaurant or cafe, do contact us at info@pakistanatlas.com