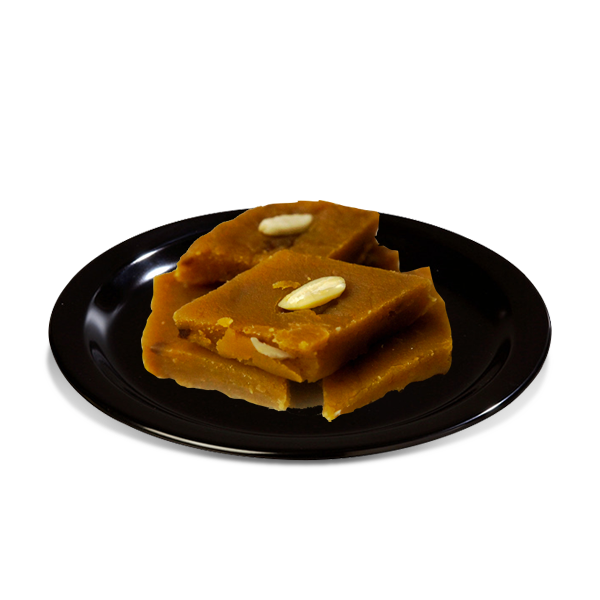 Daal ka halwa has an unforgettable taste. It is so rich and velvety that you can not stop yourself from eating it. Daal ka halwa is basically split gram fudge. It is cooked in every home and bakeries sell them in a large quantity. Daal ka halwa is Pakistan's favourite and traditional halwa that has balanced sweetness in it. It is cooked in desi ghee and garnished with nuts and raisins.
1 cup chana dal (yellow lentils)
1 cup sugar
1/2 cup ghee or clarified butter
1 cup water
1/2 tsp cardamom powder
1/4 cup mixed nuts (almonds, pistachios, cashews, etc.), chopped
Wash and soak chana dal in water for 3-4 hours. Drain the water and grind the dal into a coarse paste using a food processor or blender.
In a heavy-bottomed pot, heat ghee over medium heat. Add the ground chana dal and stir continuously for 15-20 minutes until it turns golden brown.
Add 1 cup of water to the pot and stir well. Cover the pot and let it cook on low heat for 15-20 minutes until the dal is soft and cooked through.
Add sugar to the pot and mix well. Continue cooking on low heat, stirring continuously, until the sugar has dissolved and the mixture starts to thicken.
Add cardamom powder and mix well. Continue cooking for another 10-15 minutes until the halwa starts to leave the sides of the pot.
Add chopped nuts and mix well. Remove from heat.
Serve hot or warm, garnished with additional chopped nuts.
Enjoy your delicious Daal ka Halwa!
We are Open for everyone! if you are serving this food in your restaurant or cafe, and you are interested to advertise your restaurant or cafe, do contact us at info@pakistanatlas.com
More Common foods in Pakistan