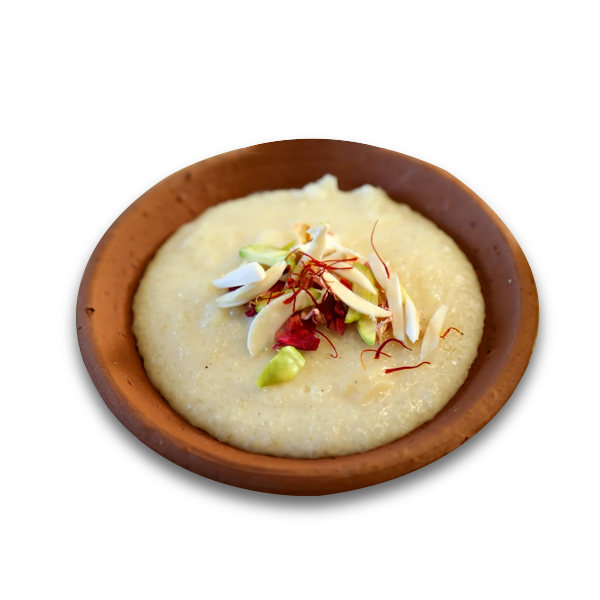 Phirni is a traditional rice pudding in Pakistan. Kheer and Phirni are almost same but phirni has ground rice in it. Phirni has a fine granulated texture and is served in small earthern bowl. It is garnished with cardamoms, almonds and pistachios. It is a treat for Pakistani people.
1/2 cup basmati rice
1 liter milk
1/2 cup sugar (or to taste)
1/4 tsp cardamom powder
1/2 tsp rose water
2-3 tbsp chopped nuts (almonds, pistachios, cashews, etc.)
Wash basmati rice and soak it in water for 1-2 hours. Drain the water and grind the rice into a fine paste using a food processor or blender.
In a heavy-bottomed pot, heat milk over medium heat. Once it starts boiling, reduce heat to low and add the ground rice paste. Stir continuously for 15-20 minutes until the rice is cooked and the mixture has thickened.
Add sugar to the pot and mix well. Continue cooking on low heat, stirring occasionally, for another 10-15 minutes until the sugar has dissolved and the mixture has thickened to a pudding-like consistency.
Add cardamom powder and rose water to the pot and mix well.
Pour the Phirni into individual serving bowls and let it cool.
Garnish with chopped nuts and refrigerate for at least an hour before serving.
Enjoy your delicious Phirni!
We are Open for everyone! if you are serving this food in your restaurant or cafe, and you are interested to advertise your restaurant or cafe, do contact us at info@pakistanatlas.com
More Common foods in Pakistan