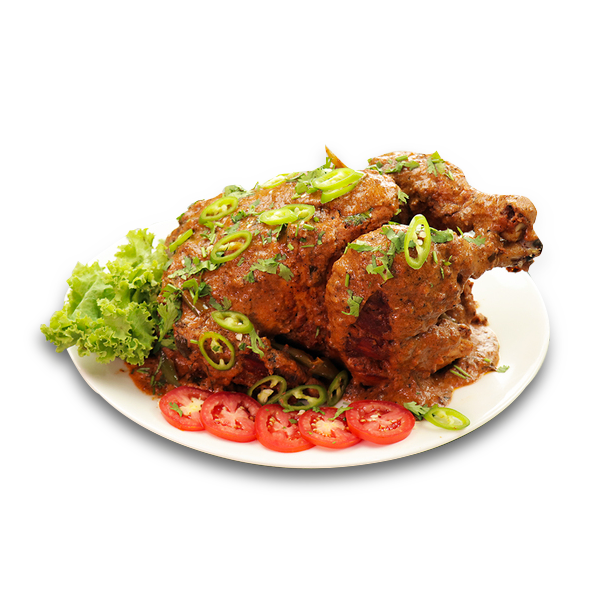 Murgh E Musallam means whole chicken. This recipe has been passed by Mughals and Nawabs to us. In Pakistan, it is mainly cooked in Karachi, Hyderabad and Lahore. Whole chicken is stuffed with boiled eggs and marinated with aromatic spices. This dish is succulent and delicious in its own way. It is served with rice.
1 whole chicken, cleaned and washed
2 cups yogurt
2 onions, sliced
2 tomatoes, chopped
1 tbsp ginger paste
1 tbsp garlic paste
2 tsp red chili powder
1 tsp turmeric powder
1 tsp cumin powder
1 tsp coriander powder
2 bay leaves
2 cinnamon sticks
4-5 green cardamom pods
4-5 black peppercorns
1/2 cup oil or ghee
Salt to taste
Coriander leaves for garnish
In a large mixing bowl, whisk together yogurt, ginger paste, garlic paste, red chili powder, turmeric powder, cumin powder, coriander powder and salt.
Marinate the chicken in the yogurt mixture for at least 4 hours or overnight in the refrigerator.
Preheat oven to 350°F (180°C).
In a large pan or Dutch oven, heat oil or ghee and fry the sliced onions until golden brown.
Add chopped tomatoes and cook until they become soft and mushy.
Add bay leaves, cinnamon sticks, green cardamom pods and black peppercorns. Fry for 1-2 minutes.
Place the marinated chicken on top of the onion-tomato mixture in the pan.
Pour the remaining yogurt marinade over the chicken and mix well with the onion-tomato mixture.
Cover the pan with a lid or foil and place it in the preheated oven. Bake for 1 hour, or until the chicken is cooked through.
After 1 hour, remove the lid or foil and increase the oven temperature to 400°F (200°C). Bake for another 10-15 minutes, or until the chicken is golden brown on top.
Garnish with chopped coriander leaves and serve hot with naan or rice.
Enjoy your delicious Murgh-e-Musallam!
We are Open for everyone! if you are serving this food in your restaurant or cafe, and you are interested to advertise your restaurant or cafe, do contact us at info@pakistanatlas.com