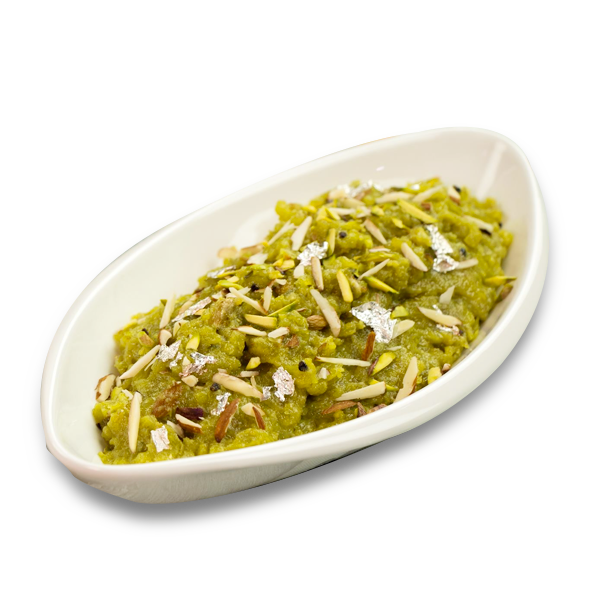 Loki ka Halwa (bottle gourd pudding) is a delicious treat of winters. It is not as common as other Halway in Pakistan but those who know the real goodness of Loki ka Halwa, can not take their hands off. The vendors and bakers of Karachi know how to make this green halwa with great taste. Loki is grated and simmered in desi ghee with cardamom powder. It is flavoured with cardamom and sugar. It is served with khoya which make the halwa too good to enjoy. Loki  ka halwa is usually served at the event of Mehendi in Karachi.
1 medium-sized bottle gourd (lauki), peeled and grated
1 cup of milk
1/2 cup of sugar (adjust according to taste)
1/4 cup of ghee (clarified butter)
1/4 cup of chopped cashews
1/4 cup of raisins
1/2 teaspoon of cardamom powder
Peel and grate the bottle gourd and keep it aside.
Heat ghee in a non-stick pan over medium heat. Add grated bottle gourd and sauté for 5-6 minutes.
Add milk to the pan and let it cook until the milk is absorbed and the lauki becomes soft.
Add sugar to the pan and mix well. Cook for another 5-7 minutes or until the sugar dissolves and the mixture thickens.
Add chopped cashews, raisins, and cardamom powder to the pan and mix well.
Cook for another 2-3 minutes, stirring continuously, until the halwa becomes thick and starts to leave the sides of the pan.
Turn off the heat and let the halwa cool down for a few minutes.
Garnish with more chopped cashews and serve hot.
Enjoy your delicious Lauki Ka Halwa!
We are Open for everyone! if you are serving this food in your restaurant or cafe, and you are interested to advertise your restaurant or cafe, do contact us at info@pakistanatlas.com