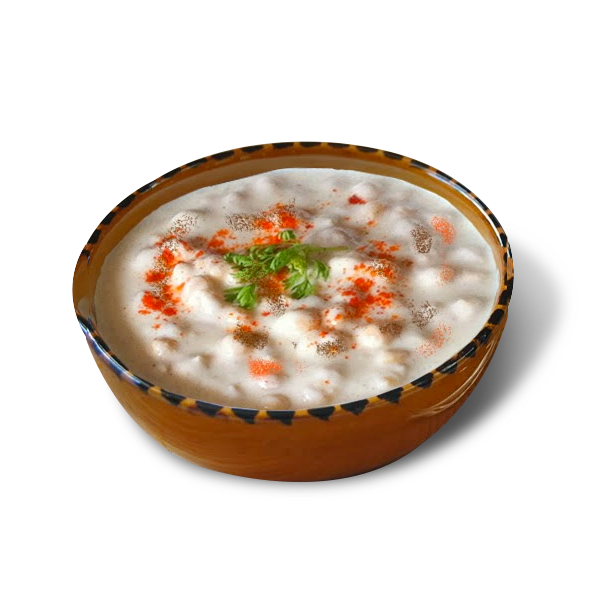 Dahi phulki is a hot and savoury side that can be easily prepared in homes and can be eaten from the stalls of Karachi. Dahi phulki is also served to guests and prepared in gatherings and parties. Small fritters of gram flour is made and added in yougurt with spices. Some people like to have it simple other add potato and tomatoes. In Karachi, people like sweet dahi phulki as well. Sweet dahi phulki can be eaten from famous bakeries of Karachi.
For phulkis:
1 cup gram flour (besan)
1/2 teaspoon red chili powder
1/2 teaspoon salt
1/2 teaspoon baking soda
1/2 cup water
Oil for frying
For yogurt sauce:
2 cups plain yogurt
1/2 teaspoon salt
1/2 teaspoon red chili powder
1/2 teaspoon cumin powder
1/4 teaspoon chaat masala
1/4 teaspoon black salt
1/4 cup chopped fresh coriander leaves (cilantro)
1/4 cup chopped fresh mint leaves
In a mixing bowl, combine the gram flour, red chili powder, salt, and baking soda. Add enough water to make a thick batter.
Heat oil in a deep frying pan on medium-high heat.
Using a spoon, drop small balls of batter into the hot oil and fry until golden brown. Drain on a paper towel-lined plate.
In another mixing bowl, whisk together the yogurt, salt, red chili powder, cumin powder, chaat masala, and black salt until smooth.
Add the chopped coriander and mint leaves to the yogurt sauce and mix well.
To serve, place the phulkis in a serving dish and pour the yogurt sauce over them. Garnish with additional coriander leaves if desired.
Note: You can adjust the amount of salt and spices in the yogurt sauce according to your taste. You can also add tamarind chutney or green chutney to the sauce for additional flavor.
We are Open for everyone! if you are serving this food in your restaurant or cafe, and you are interested to advertise your restaurant or cafe, do contact us at info@pakistanatlas.com