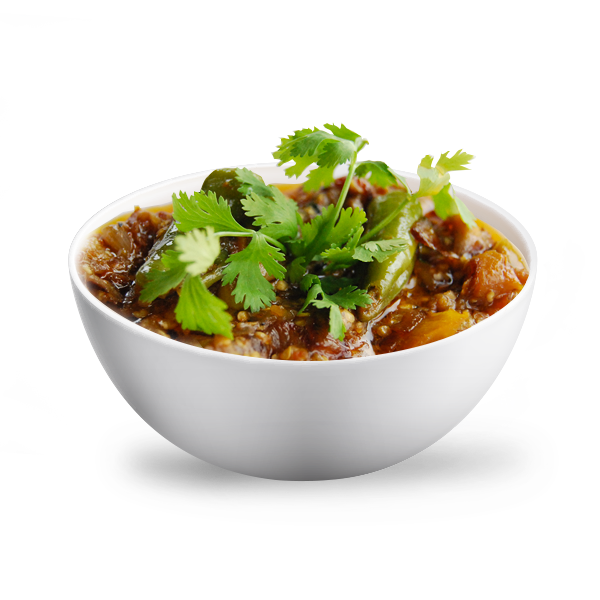 Another amazing option for vegetarians or people tired of eating meat, Baingan ka Bharta. It is a desi main course in Pakistan and eaten as lunch. Baingan ka bharta is made by mashing the egg plant by keeping it over a charcoal or fire. Charcoal or fire gives it a smoky taste. Onions, green chillies, mustard oil, green corianders and spices are added to give it a delicious taste. It is served with roti or daal chawal.
1 large eggplant (baingan)
2 tbsp oil
1 tsp cumin seeds
1 onion, finely chopped
2-3 green chilies, finely chopped
1 tsp ginger paste
1 tsp garlic paste
2 tomatoes, finely chopped
1 tsp coriander powder
1/2 tsp cumin powder
1/2 tsp turmeric powder
Salt to taste
Coriander leaves for garnish
Pierce the eggplant all over with a fork and place it on a griddle. grill the eggplant for 30 minutes, or until the skin is charred and the flesh is soft.
Remove the eggplant from the griddle and let it cool. Once cool, remove the charred skin and discard it.
Mash the eggplant flesh with a fork or potato masher until it is well mashed.
Heat oil in a pan over medium heat. Add cumin seeds and fry until they start to sizzle.
Add finely chopped onion, green chilies, ginger paste and garlic paste to the pan. Fry until the onions are golden brown.
Add chopped tomatoes to the pan and cook until they become soft and mushy.
Add coriander powder, cumin powder, turmeric powder and salt to the pan. Mix well and cook for 1-2 minutes.
Add the mashed eggplant to the pan and mix well with the onion-tomato mixture.
Cook the baingan ka bharta for 5-7 minutes, or until heated through and the flavors have melded together.
Garnish with chopped coriander leaves and serve hot with naan or roti.
Enjoy your delicious baingan ka bharta!
We are Open for everyone! if you are serving this food in your restaurant or cafe, and you are interested to advertise your restaurant or cafe, do contact us at info@pakistanatlas.com