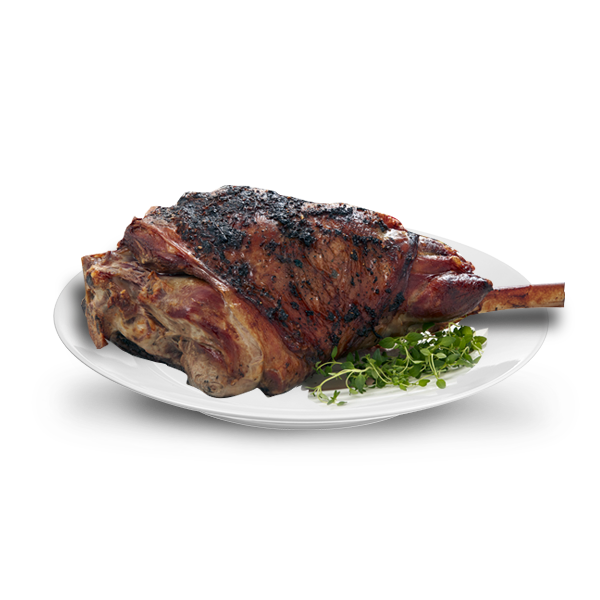 Raan roast is basically mutton leg piece that is steamed and fried with aromatic spices. Best version of this dish can be tasted in Lahore and Sahiwal. In restaurants, you can watch live preparation and cooking of Raan roast. It is especially made in gatherings and celebrations. Pakistanis make this dish in Eid ul Adha for their guests. It is served with chutneys and raita. It can be eaten with naan or puri.
1 whole leg of lamb (approximately 2-3 kg)
1 cup yogurt
1 tablespoon ginger paste
1 tablespoon garlic paste
1 tablespoon red chili powder
1 tablespoon coriander powder
1 tablespoon cumin powder
1 tablespoon garam masala powder
1/2 teaspoon turmeric powder
Salt, to taste
1/2 cup oil
2 onions, sliced
2 tomatoes, chopped
2 green chilies, chopped
Fresh coriander leaves, chopped
Clean the leg of lamb and make small cuts on the surface of the meat.
In a mixing bowl, whisk the yogurt until smooth. Add ginger paste, garlic paste, red chili powder, coriander powder, cumin powder, garam masala powder, turmeric powder, and salt. Mix well.
Apply the marinade all over the leg of lamb and make sure it is well coated. Cover the bowl and let it marinate for at least 6-8 hours, or overnight for best results.
Preheat the oven to 180°C.
In a roasting pan, add oil and heat it on high heat. Add sliced onions and cook until they turn golden brown.
Add the marinated leg of lamb to the roasting pan and cook for 15 minutes on high heat.
Reduce the heat to 160°C and roast the lamb for 2-3 hours, or until it is fully cooked and tender.
Add chopped tomatoes, green chilies, and fresh coriander leaves to the roasting pan. Mix well.
Increase the oven temperature to 200°C and roast for another 10-15 minutes until the lamb is browned and crispy.
Remove the Raan Roast from the oven and let it rest for 10-15 minutes before serving.
Serve the Raan Roast hot with naan bread or rice and your favorite chutneys. Enjoy the delicious and aromatic flavors of this traditional dish!
We are Open for everyone! if you are serving this food in your restaurant or cafe, and you are interested to advertise your restaurant or cafe, do contact us at info@pakistanatlas.com