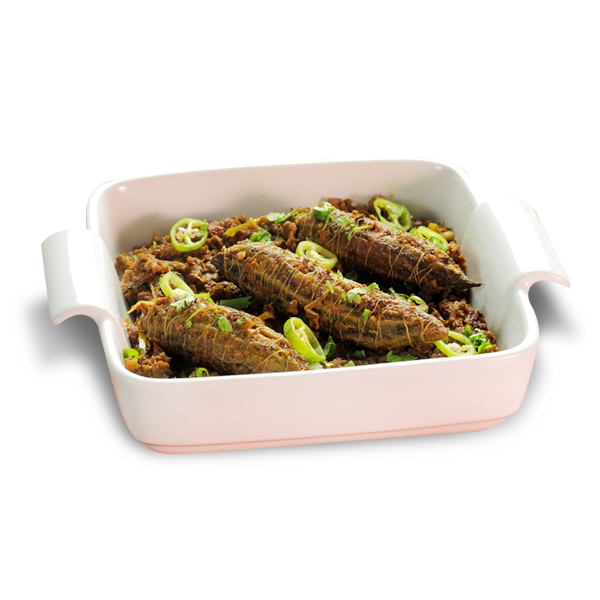 A tempting combination is Qeema bharay Karelay.This dish is perfect Pakistani meal for lunch. Karelay (bitter gourd) is stuffed with beef or mutton mince and then fried. The fascinating part of cooking is, we tie all the karelay with thread so that mince does not come out of it. When dished out, the person has to open the thread and eat it. This is a unique way of eating and only we Pakistanis can make such fabulous combinations and styleof cooking.
6-8 small bitter gourds (karelay), washed and sliced lengthwise
1/2 kg ground beef or lamb
1 onion, finely chopped
2 tomatoes, finely chopped
1 tablespoon ginger paste
1 tablespoon garlic paste
2-3 green chilies, finely chopped
1 teaspoon cumin seeds
1 teaspoon coriander powder
1 teaspoon red chili powder
1/2 teaspoon turmeric powder
Salt to taste
2-3 tablespoons oil
Fresh coriander leaves, chopped for garnish
Slice each karela lengthwise and scoop out the seeds and flesh with a spoon. Rinse the karela and keep them aside.
In a large pan, heat oil and add cumin seeds. Saute until they start to sizzle.
Add finely chopped onions to the pan and saute until they turn golden brown.
Add ginger and garlic paste to the pan and cook for 2-3 minutes.
Add chopped tomatoes to the pan and cook until they turn mushy.
Add all the spices, including coriander powder, red chili powder, turmeric powder, and salt. Mix well.
Add the ground beef or lamb to the pan and cook until the meat is fully cooked and the masala is well combined.
Stuff each karela with the cooked meat mixture and press the edges together to seal it.
In a large pot, arrange the stuffed karelay and add enough water to cover them. Season with salt and bring to a boil.
Cover the pot with a lid and cook on medium heat for about 20-25 minutes or until the karelay are fully cooked and tender.
Once done, turn off the heat and garnish with fresh coriander leaves.
Your delicious Qeemay bhare karelay is now ready to serve with roti or rice. Enjoy!
We are Open for everyone! if you are serving this food in your restaurant or cafe, and you are interested to advertise your restaurant or cafe, do contact us at info@pakistanatlas.com