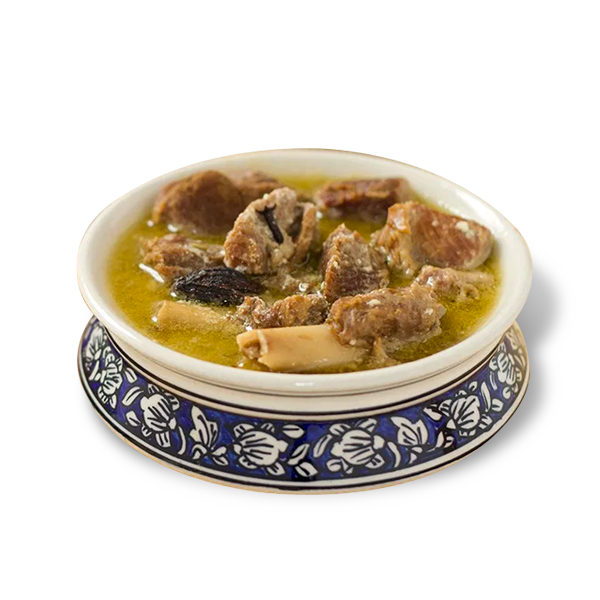 Yakhni is a desi soup. It is prepared by boiling chicken, beef or mutton with bones and all the aromatic spices. It is slowly cooked for a long time till all the extract of bones and spices are indulged together. This forms the broth which is served hot with lemon. This broth is very healthy and effective in winters. It is a full power pack soup for elders as well. Yakhni is famous in Peshawar and other cities of Pakistan.
1 kg bone-in mutton/lamb
1 onion, sliced
1 tablespoon ginger paste
1 tablespoon garlic paste
2-3 green cardamoms
2-3 cloves
1 cinnamon stick
1 teaspoon cumin seeds
1 teaspoon coriander seeds
1 teaspoon fennel seeds
1 teaspoon black peppercorns
Salt to taste
3-4 cups water
2 tablespoons oil
Fresh coriander leaves for garnish
In a large pot, heat the oil over medium heat.
Add the sliced onions and cook until they turn golden brown.
Add the ginger and garlic paste and cook for a minute.
Add the whole spices (cardamoms, cloves, cinnamon, cumin seeds, coriander seeds, fennel seeds, and black peppercorns) and cook for a minute.
Add the mutton/lamb and cook until the meat is browned on all sides.
Add salt and enough water to cover the meat.
Bring the mixture to a boil, then reduce the heat to low, cover the pot, and simmer until the meat is tender and cooked through, about 45-60 minutes.
Once the meat is cooked, remove it from the pot and set it aside.
Strain the remaining liquid through a fine-mesh sieve and discard the solids.
Return the strained liquid to the pot and simmer until it thickens slightly and the flavors have melded together, about 10-15 minutes.
Add the cooked meat back into the pot and simmer for a few minutes.
Serve hot, garnished with fresh coriander leaves.
Enjoy your delicious yakhni!
We are Open for everyone! if you are serving this food in your restaurant or cafe, and you are interested to advertise your restaurant or cafe, do contact us at info@pakistanatlas.com