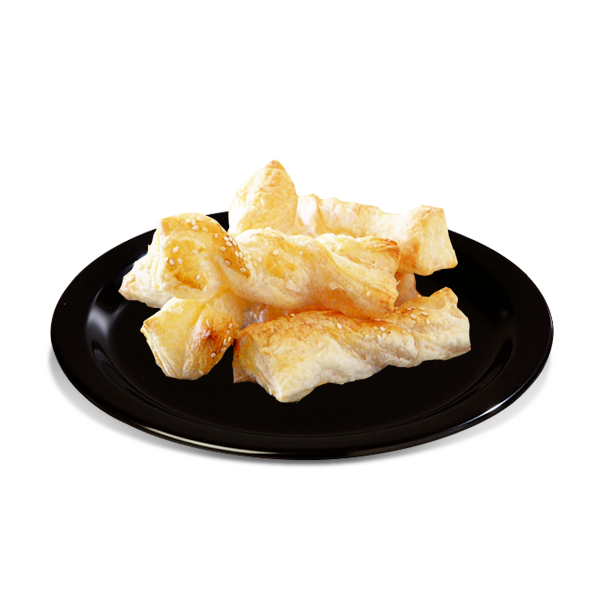 Its light and puffy and usually found in all the bakeries of Pakistan. People who want to go with lighter breakfasts  can grab a cup of tea and and puff pastries with them.  Puff Pastries in Pakistan are dusted off with sugar, salt and sometimes cumin which gives it extraordinary taste. Every fold of Pastry has buttery flavour in it.
2 1/4 cups all-purpose flour
1 tsp salt
1 cup unsalted butter, cold and cut into small pieces
1/2 cup ice water
In a large bowl, whisk together the flour and salt.
Add the cold butter to the flour mixture and use a pastry cutter or your fingers to work the butter into the flour until the mixture resembles coarse crumbs.
Add the ice water a little at a time, mixing until the dough comes together in a ball.
Turn the dough out onto a lightly floured surface and knead gently for a few seconds until it is smooth.
Roll the dough out into a rectangle that is about 1/4 inch thick. Fold the bottom third of the dough up over the middle third, then fold the top third down over the middle. This is the first "turn".
Turn the dough so that the open ends are facing you and roll it out into a rectangle again. Repeat the folding process for the second "turn".
Repeat this process two more times for a total of four turns.
Wrap the dough in plastic wrap and chill in the refrigerator for at least 30 minutes before using.
Your puff pastry is now ready to be used in a variety of recipes, such as turnovers, tarts, and pastries.
We are Open for everyone! if you are serving this food in your restaurant or cafe, and you are interested to advertise your restaurant or cafe, do contact us at info@pakistanatlas.com
More Common foods in Pakistan