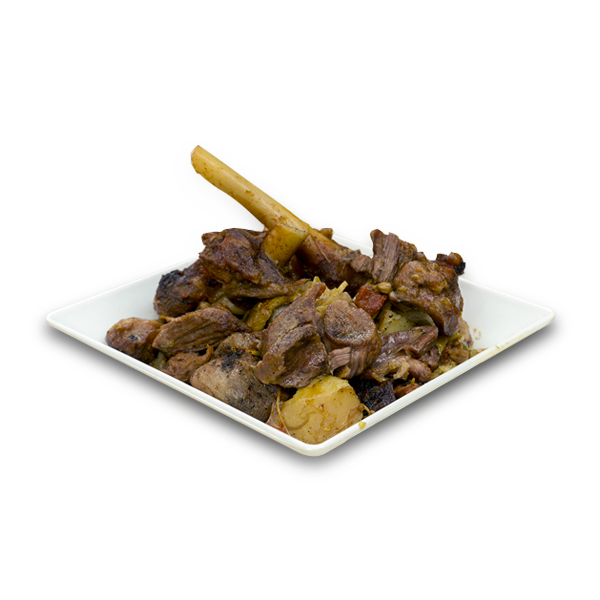 Dumpukht Is a unique appealing dish which is originated from Peshawar and cities of Balochistan in Pakistan. The method is slow cooking of meat and uncut vegetables that include potatoes, onions, tomatoes and green chillies. The pot of Dumpukht is sealed and cooked under the soil. You can find this dish in Karachi and Islamabad also. Middle East countries also serve Dumpukht like Dubai, Kuwait etc.
Mutton – 1 Kg
 Goat Fat – 1 Kg (Charbi)
 Potato – 5 Pcs (Small)
 Tomato – 5 Pcs (Small)
 Green Chili  – 4 Pcs
 Lemon Juice – 2 Pcs
 Black Pepper Powder – 1 tsp
 Salt  – To Taste
 All-Purpose Flour  – 2 Cups
Take a deep pot. Layer the goat fat (Charbi) at the bottom. Now make a layer of the mutton pieces on top of it.
Set the veggies above it and squeeze the lemon juice over it. Sprinkle the salt and pepper powder over it. Do not mix. Leave it as it is.
Now take the maida mix to make the dough. Keep the water less so that it holds the lid properly. Now place the dough over the borders of the pot and cover it with lid. Again put the dough over the lid and pack it properly so that the air doesn't leak.
Cook on high heat for about 10 minutes and then lower the heat. Leave it to cook for another 2 to 3 hours. You will hear a whistle like sound and hot air will leak from it.
After 3 hours remove the lid and your Afghani Dum Pukht or Slow Cooked Afghani Mutton is ready to serve. You can have it raw or with rice. mutton will be cooked perfectly and will be very tender. You will love eating it.
We are Open for everyone! if you are serving this food in your restaurant or cafe, and you are interested to advertise your restaurant or cafe, do contact us at info@pakistanatlas.com
More food from Balochistan