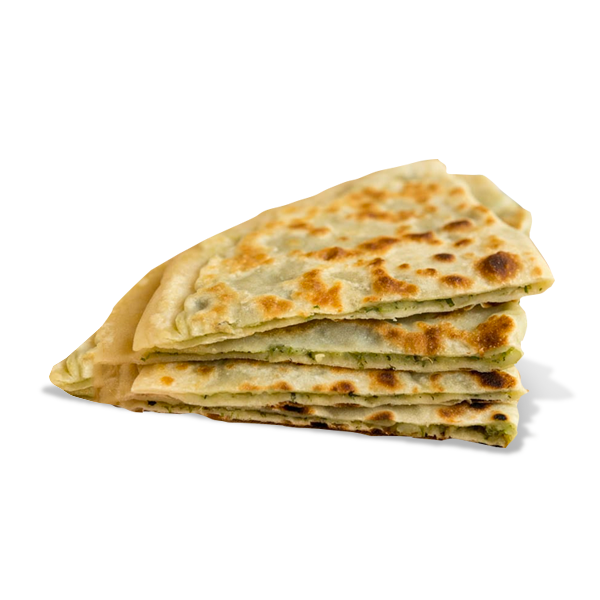 Bolani is a pocket bread and this pocket is filled with different vegetables. Vegetables include potatoes and spring onion most of the time. It is either baked or fried. You can find it mainly on the streets of Peshawar. This bread is served with fresh yogurt.  If you visit Peshawar, bolani is a must try.
For the dough:
3 cups all-purpose flour
1 teaspoon salt
1 cup warm water
2 tablespoons vegetable oil
For the filling:
2 cups mashed potatoes
1 small onion, finely chopped
1/2 teaspoon salt
1/2 teaspoon black pepper
1/2 teaspoon cumin
1/2 teaspoon coriander
2 tablespoons vegetable oil
n a large mixing bowl, combine the flour and salt. Slowly add the warm water and mix until a dough forms.
Knead the dough for 5-10 minutes until it becomes smooth and elastic. Cover with a damp towel and let rest for 30 minutes.
In a separate bowl, mix together the mashed potatoes, onion, salt, black pepper, cumin, coriander, and vegetable oil.
Divide the dough into 6-8 equal pieces. Roll each piece into a ball and then flatten into a disc with a rolling pin.
Place a tablespoon of the filling onto the center of each disc and spread it out, leaving a border around the edges.
Fold the dough over the filling to create a half-moon shape. Press the edges together to seal.
Heat a skillet or griddle over medium-high heat. Brush the bulani with a little oil and cook for 2-3 minutes on each side until golden brown and crispy.
Serve hot with chutney or yogurt sauce.
Enjoy your delicious bulani…
We are Open for everyone! if you are serving this food in your restaurant or cafe, and you are interested to advertise your restaurant or cafe, do contact us at info@pakistanatlas.com