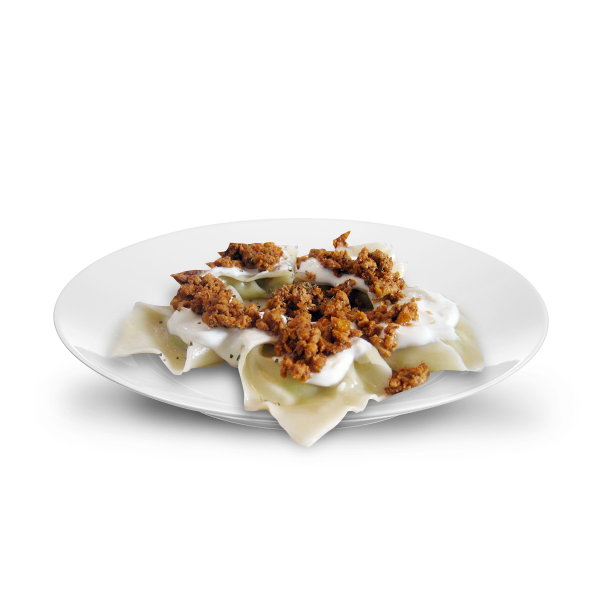 Aushak is an eccentric dish of Peshawar which is very rich in flavours. Aushak is wheat based dumplings. These dumplings are stuffed with vegetables and chives. To give it a more desirable taste, yogurt and tomato pastes are added on top. If you visit Peshawar, the next thing you want to try is Aushak.
For the dough:
2 cups all-purpose flour
1/2 tsp salt
1/2 cup water
1 egg
For the filling:
1 lb leeks, finely chopped
1/2 lb ground beef or lamb
1/2 tsp salt
1/2 tsp black pepper
2 cloves garlic, minced
For the sauce:
2 cups plain yogurt
3 cloves garlic, minced
1/2 tsp salt
For the tomato sauce:
1 tbsp vegetable oil
1 onion, chopped
2 cloves garlic, minced
2 tbsp tomato paste
1 can crushed tomatoes
1 tsp salt
1 tsp black pepper
To make the dough, combine the flour and salt in a large mixing bowl. In a separate bowl, whisk together the water and egg. Pour the egg mixture into the flour mixture and mix until a smooth dough forms. Knead the dough on a floured surface for 5-10 minutes, then cover and let rest for 30 minutes.
To make the filling, combine the finely chopped leeks, ground beef or lamb, salt, black pepper, and minced garlic in a bowl. Mix well.
On a floured surface, roll out the dough to a thickness of about 1/8 inch. Use a round cookie cutter or glass to cut out circles of dough, about 3 inches in diameter.
Place a small spoonful of the filling in the center of each dough circle. Pinch the edges of the dough together to form a pouch around the filling, leaving a small opening at the top.
Bring a large pot of salted water to a boil. Add the dumplings to the pot and cook for 5-7 minutes, until the dough is cooked and the filling is hot.
To make the yogurt sauce, whisk together the yogurt, minced garlic, and salt in a small bowl.
To make the tomato sauce, heat the vegetable oil in a large saucepan over medium heat. Add the chopped onion and minced garlic and cook until softened, about 5 minutes. Add the tomato paste, crushed tomatoes, salt, and black pepper, and stir well. Simmer for 10-15 minutes, until the sauce has thickened slightly.
Serve the boiled dumplings with the yogurt sauce and tomato sauce on top. Garnish with chopped cilantro or mint, if desired. Enjoy!
We are Open for everyone! if you are serving this food in your restaurant or cafe, and you are interested to advertise your restaurant or cafe, do contact us at info@pakistanatlas.com