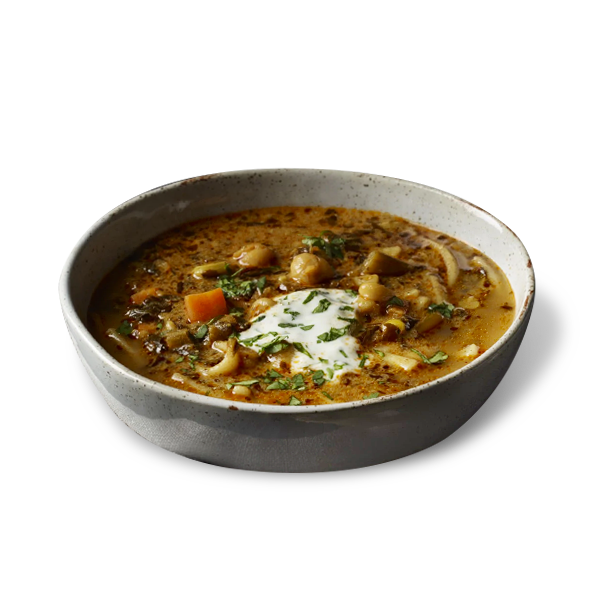 Aush is a Peshawari soup. Aush has home made wheat noodles in it. This soup consists of minced beef, chickpeas and red beans. The flavour gets rich when a scoop of yogurt is added at the top of it with some herbs and spices. It is a special winter treat for Peshawaris and is a nutritional soup to have.
1/2 cup red lentils, rinsed
1/2 cup boiled chickpeas
4 cups water
1 onion, chopped
3 cloves garlic, minced
1 tbsp vegetable oil
1 tsp cumin seeds
1/2 tsp turmeric
1/2 tsp paprika
1/2 tsp black pepper
1/2 tsp salt
4 cups chicken or vegetable broth
1 cup egg noodles
1 carrot, diced
1 potato, diced
1 cup spinach, chopped
1 lemon, juiced
Fresh mint leaves, chopped (optional)
In a large pot, combine the rinsed lentils and water. Bring to a boil, then reduce heat and simmer for 10-15 minutes, until the lentils are tender.
In a separate pan, heat the vegetable oil over medium heat. Add the boiled chickpeas, chopped onion and minced garlic and cook until softened, about 5 minutes.
Add the cumin seeds, turmeric, paprika, black pepper, and salt to the pan. Cook for another 1-2 minutes, until fragrant.
Add the cooked lentils, broth, egg noodles, diced carrot, and diced potato to the pot with the onions and spices. Bring to a boil, then reduce heat and simmer for 10-15 minutes, until the vegetables and noodles are tender.
Stir in the chopped spinach and lemon juice. Taste and adjust seasoning as needed.
Serve the hot aush soup garnished with fresh mint leaves and additional lemon wedges, if desired.
Enjoy your delicious bowl of aush soup!
We are Open for everyone! if you are serving this food in your restaurant or cafe, and you are interested to advertise your restaurant or cafe, do contact us at info@pakistanatlas.com