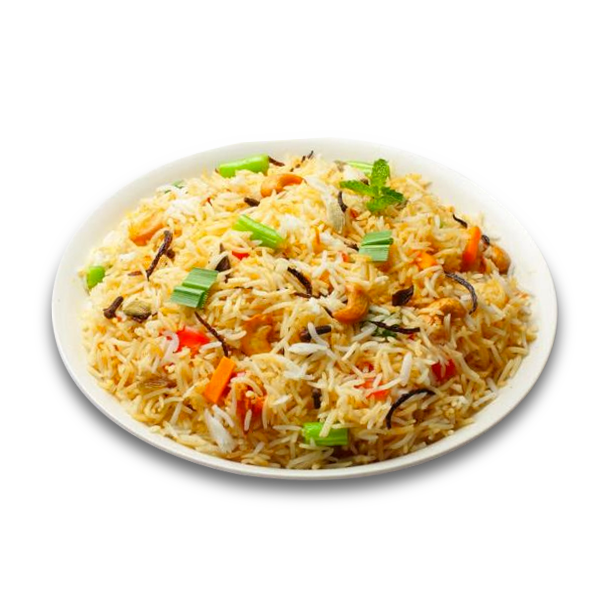 Tud Tud Bhata ( Kashmiri Fried Rice )
Tud tud bhata is a Kashmiri fried rice that is easy to make and is a simple rice dish. The rice is flavoured with minimum spices and garlic ginger. Tud tud bhata is served with fried eggs on the platter.
1 cup basmati rice
2 tbsp. oil
1 onion, sliced
2 green cardamom pods, crushed
1 cinnamon stick
1 bay leaf
1 tsp. cumin seeds
1/2 tsp. fennel seeds
1/2 tsp. turmeric powder
1/4 tsp. red chili powder
1/4 tsp. ground ginger
1/4 tsp. ground cinnamon
1/4 tsp. ground cloves
Salt to taste
1/4 cup frozen peas
1/4 cup raisins
1/4 cup cashews, chopped
1/4 cup almonds, chopped
1/4 cup dried cranberries
Fresh cilantro or parsley for garnishing
Rinse the basmati rice in cold water until the water runs clear. Soak the rice in cold water for at least 30 minutes.
In a large pot, heat the oil over medium heat.
Add the sliced onion and sauté until it is golden brown.
Add the crushed green cardamom pods, cinnamon stick, bay leaf, cumin seeds, and fennel seeds. Sauté for 1-2 minutes.
Drain the soaked rice and add it to the pot. Stir well to coat the rice with the spices.
Add the turmeric powder, red chili powder, ground ginger, ground cinnamon, ground cloves, and salt. Mix well.
Add 2 cups of water to the pot and bring the mixture to a boil.
Once it comes to a boil, reduce the heat to low and cover the pot with a lid.
Let the rice cook on low heat for 15-20 minutes, or until the water has been absorbed and the rice is tender.
In a separate pan, sauté the frozen peas, raisins, cashews, almonds, and dried cranberries until they are golden brown.
Once the rice is cooked, remove the cinnamon stick and bay leaf and discard.
Add the sautéed dry fruits and peas to the pot with the rice and mix well.
Serve hot, garnished with fresh cilantro or parsley.
Enjoy your delicious Tud tud bhata or Kashmiri fried rice!
We are Open for everyone! if you are serving this food in your restaurant or cafe, and you are interested to advertise your restaurant or cafe, do contact us at info@pakistanatlas.com