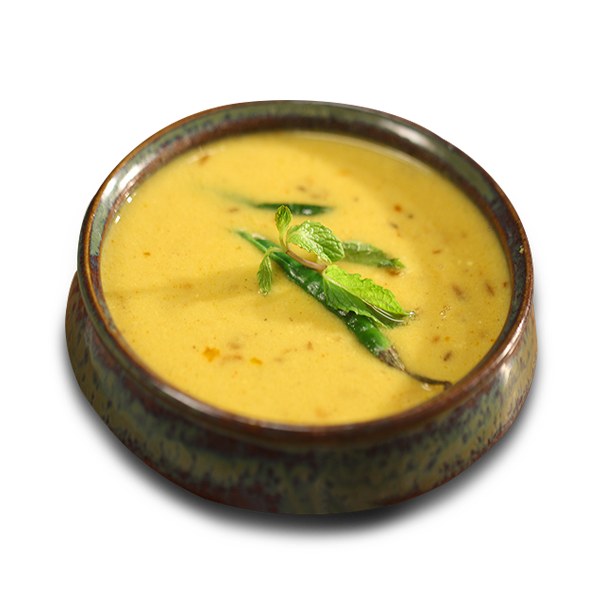 Sultani daal is a mughlai dish with rich and regal taste. This daal is creamy and has tantalising aroma. Milk and cream give it a smooth texture and newness to the dish. You can find Sultani Daal in Lahore and Jehlum.
1 cup mixed lentils (chana daal, masoor daal, moong daal, and urad daal)
2 tablespoons ghee
1 tablespoon cumin seeds
1 tablespoon ginger paste
1 tablespoon garlic paste
2 onions, finely chopped
2 tomatoes, finely chopped
1 teaspoon coriander powder
1/2 teaspoon cumin powder
1/2 teaspoon turmeric powder
1/2 teaspoon red chili powder
1/2 teaspoon garam masala powder
Salt to taste
2 tablespoons cream
Fresh coriander leaves, chopped for garnish
Wash the mixed lentils and soak them in water for at least 1 hour.
Drain the soaked lentils and add them to a pressure cooker along with 4 cups of water. Pressure cook for 4-5 whistles or until the lentils are cooked.
Once the lentils are cooked, mash them lightly with a spoon or a masher.
Heat ghee in a large pan and add cumin seeds. Saute until they start to splutter.
Add ginger and garlic paste to the pan and saute for 2-3 minutes.
Add finely chopped onions to the pan and saute until they turn golden brown.
Add chopped tomatoes to the pan and cook until they turn mushy.
Add coriander powder, cumin powder, turmeric powder, red chili powder, garam masala powder, and salt to taste. Mix well.
Add the cooked lentils to the pan and mix with the spice mixture. Add enough water to the pan to get the desired consistency.
Let the daal simmer for 5-10 minutes until the flavors are well combined.
Once done, turn off the heat and add cream to the pan. Mix well.
Garnish with fresh coriander leaves and serve hot with steamed rice or any bread of your choice.
Your delicious Sultani daal is now ready to serve. Enjoy!
We are Open for everyone! if you are serving this food in your restaurant or cafe, and you are interested to advertise your restaurant or cafe, do contact us at info@pakistanatlas.com