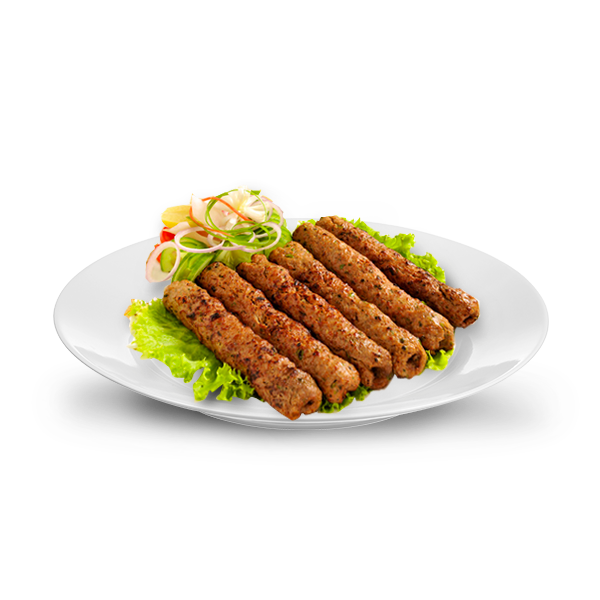 Seekh kabab is one of the barbecue dishes that has a lot of demand in Pakistan. It is made with a smooth mixture of minced meat and aromatic spices. The mixture is placed on a skewer and given the shape of cylinder. It goes best with mint raita. It is eaten in most of the cities of Pakistan. Pakistani Barbecue platter is incomplete without it.
1 lb. ground beef or lamb
1 medium onion, finely chopped
2 tbsp. ginger paste
2 tbsp. garlic paste
1 tbsp. cumin powder
1 tbsp. coriander powder
1 tsp. red chili powder
1/2 tsp. garam masala powder
1/2 tsp. turmeric powder
1/2 tsp. salt, or to taste
2 tbsp. fresh cilantro, chopped
2 green chilies, finely chopped
1/4 cup breadcrumbs
1 egg
8-10 bamboo skewers
In a large mixing bowl, combine the ground meat, onion, ginger paste, garlic paste, cumin powder, coriander powder, red chili powder, garam masala powder, turmeric powder, salt, cilantro, and green chilies.
Mix well with your hands to incorporate all the spices and ingredients evenly.
Add breadcrumbs and egg to the mixture and mix again until well combined.
Soak the bamboo skewers in water for 30 minutes to prevent them from burning.
Divide the meat mixture into 8-10 portions and shape each portion into a sausage shape around a skewer, pressing the meat firmly so that it doesn't fall off during grilling.
Preheat a grill or grill pan on medium heat. Once heated, place the skewers on the grill and cook for 5-6 minutes on each side or until the kababs are cooked through and browned on the outside.
Serve the seekh kababs hot with some mint chutney and naan bread on the side.
We are Open for everyone! if you are serving this food in your restaurant or cafe, and you are interested to advertise your restaurant or cafe, do contact us at info@pakistanatlas.com
More Common foods in Pakistan