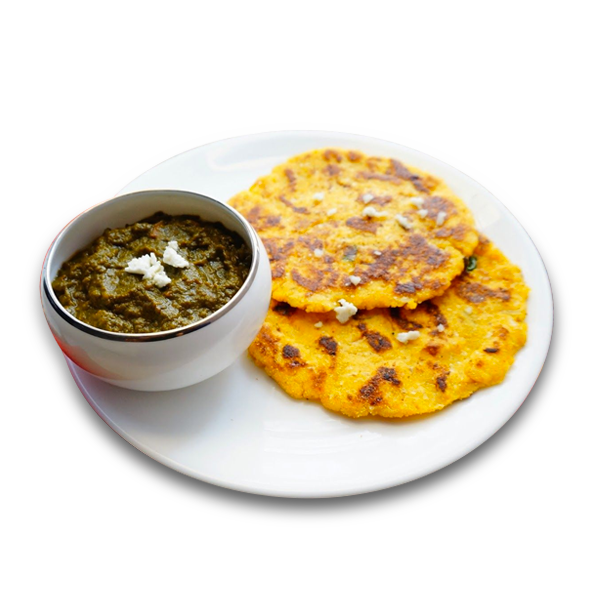 Sarsun ka Saag & Makai ki Roti
Visiting Punjab and not eating Sarsun ka saag (mustard greens) and Makki ki Roti (maize bread) is a crime. This dish is completely owned by the Punjabis.The combination of these two foods is just amazing. It is found in all the restaurants and dhabas in every season but especially in winter. Its prepared by housewives as well. This dish is full of nutrition and flavours. Sarsun ka saag has white on top butter of it which makes it more delicious. Vegetarians would definitely fall in love with the dish.
Ingredients for Sarsun ka Saag:
1 bunch mustard greens, chopped
1 bunch spinach, chopped
1 bunch fenugreek leaves, chopped
1 onion, chopped
2-3 green chilies, chopped
1 tablespoon ginger, grated
1 tablespoon garlic, minced
2 tomatoes, chopped
1 teaspoon cumin seeds
1 teaspoon coriander powder
1 teaspoon turmeric powder
Salt to taste
2 tablespoons ghee
Water as needed
Ingredients for Makai ki Roti:
2 cups cornmeal
1/2 cup wheat flour
1/2 teaspoon salt
Warm water as needed
Ghee for cooking
To make the Sarsun ka Saag, wash and chop the mustard greens, spinach, and fenugreek leaves. Set aside.
In a large pot, heat the ghee and add the cumin seeds. Once they splutter, add the onions and green chilies. Saute until the onions turn translucent.
Add the grated ginger and minced garlic to the pot and saute for 1-2 minutes.
Add the chopped tomatoes to the pot and cook until they turn mushy.
Add the chopped greens to the pot and mix well. Add turmeric powder, coriander powder, and salt to taste.
Add enough water to the pot to cover the greens. Bring to a boil and then reduce the heat to low. Cover the pot with a lid and let it simmer for 30-40 minutes or until the greens are fully cooked.
Once done, use an immersion blender or a hand blender to blend the greens to a coarse paste.
For the Makaii ki Roti, mix together the cornmeal, wheat flour, and salt in a bowl. Add warm water as needed to form a soft dough.
Divide the dough into small balls and roll each ball into a flat disc using a rolling pin.
Heat a griddle or tawa and place the rolled roti on it. Cook on both sides until brown spots appear and the roti is fully cooked. Add ghee to the roti while cooking for extra flavor.
Serve the Sarsun ka Saag hot with Makaii ki Roti and a dollop of ghee on top.
Your delicious Sarsun ka Saag aur Makai ki Roti is now ready to enjoy.
We are Open for everyone! if you are serving this food in your restaurant or cafe, and you are interested to advertise your restaurant or cafe, do contact us at info@pakistanatlas.com