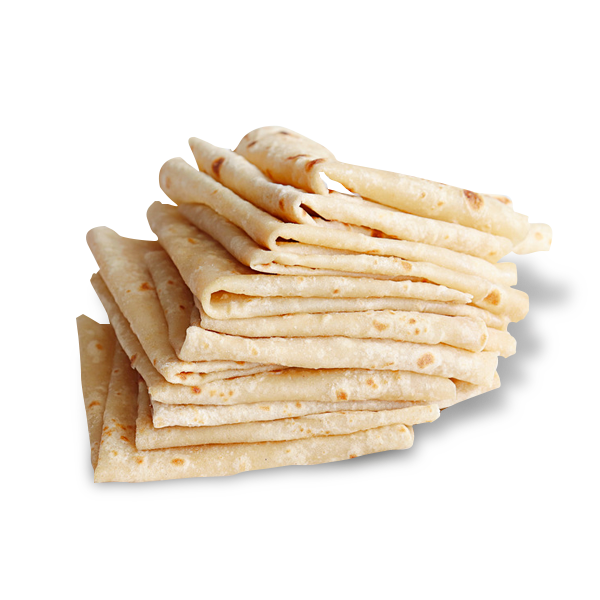 Romali roti are very thin and are larger in size as compared to other flat breads.  Romal is called handkerchief in english and romali roti can also be folded like handkerchief. This roti is served with all grilled items and different curries. Romali roti is mainly available in Karachi and Hyderabad.
2 cups of all-purpose flour
1/2 teaspoon of salt
1/4 teaspoon of baking powder
2 tablespoons of vegetable oil
1/2 cup of warm water
Extra flour for dusting
In a large mixing bowl, combine the flour, salt, and baking powder. Mix well.
Add the vegetable oil to the bowl and mix until the mixture becomes crumbly.
Gradually add the warm water to the bowl, mixing the dough with a spoon or your hands until it becomes soft and smooth. Knead the dough for about 5-10 minutes until it is smooth and elastic.
Cover the dough with a damp cloth and let it rest for about 15-20 minutes.
Divide the dough into 8-10 equal portions and roll each portion into a ball.
Sprinkle some flour on a flat surface and roll out each ball into a very thin circle, about 8-10 inches in diameter.
Heat a tawa (griddle) over medium-high heat.
Carefully transfer the rolled-out roti onto the hot tawa.
Cook the roti for about 20-30 seconds, or until bubbles start to form on the surface.
Flip the roti over and cook the other side for about 20-30 seconds as well.
Remove the roti from the tawa and place it on a plate. Repeat the process with the remaining portions of dough.
Fold each roti into quarters and serve them hot with your favorite curry or dish.
Enjoy your delicious roomali roti!
We are Open for everyone! if you are serving this food in your restaurant or cafe, and you are interested to advertise your restaurant or cafe, do contact us at info@pakistanatlas.com