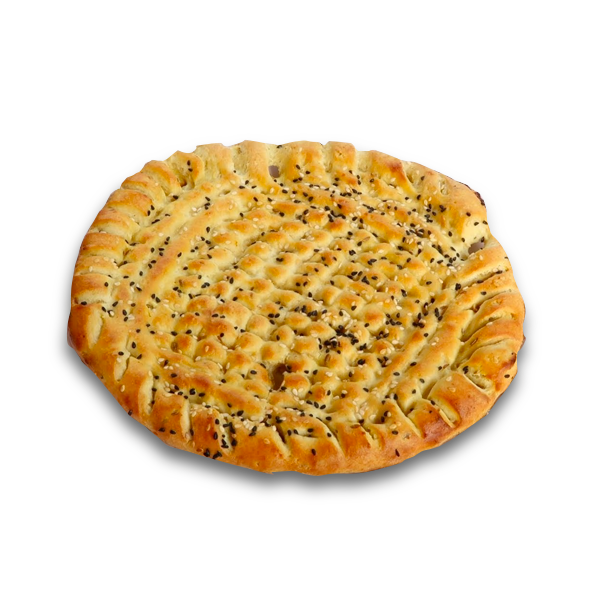 Roghni naan is a glistening luxurious flat bread of Punjab that is kneaded with milk and yeast. Sesame seeds are sprinkled on it and its very soft to eat. It is freshly baked in tandoor and served in different ceremonies. Some people love to eat it simply with tea.
2 cups all-purpose flour
1 teaspoon salt
1 teaspoon sugar
1 teaspoon baking powder
2 tablespoons oil
2 tablespoons butter, melted
1/2 cup milk
1/2 cup water (or as needed)
1 egg, lightly beaten
Nigella seeds (kalonji) or sesame seeds for topping
In a mixing bowl, add the all-purpose flour, salt, sugar, and baking powder. Mix well.
Add oil and melted butter to the flour mixture and mix well with your fingers until the mixture resembles coarse crumbs.
Gradually add milk and water to the mixture and knead into a soft and smooth dough. Cover the dough with a damp cloth and let it rest for 30 minutes.
After the dough has rested, divide it into equal-sized balls. Dust each ball with flour and roll out into a slightly thicker circle.
Brush the top of the rolled-out naan with beaten egg and sprinkle some nigella seeds or sesame seeds on the top.
Heat a tawa or a non-stick pan over medium heat. Once hot, place the rolled-out naan onto the tawa with the egg side down and cook for 30 seconds.
Flip the naan and cook for another 30 seconds. Then, flip the naan again and cook for 15-20 seconds.
Using tongs, remove the naan from the tawa and place it onto a plate. Repeat with the remaining dough balls.
Serve the roghni naan hot with your favorite curry or chutney. Enjoy!
We are Open for everyone! if you are serving this food in your restaurant or cafe, and you are interested to advertise your restaurant or cafe, do contact us at info@pakistanatlas.com