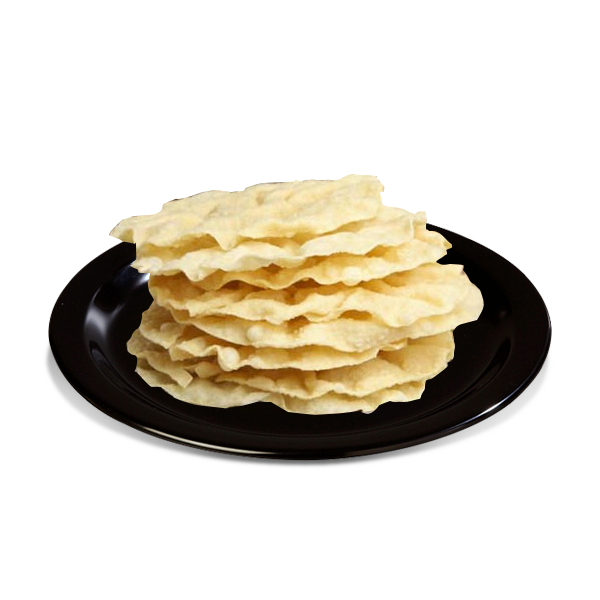 Papad is basically a desi name for crackers in Pakistan. Hyderabadi knows the actual art of making papad. It is a crispy thin flat bread made up of lentils, rice and sometimes potatoes. These papad are seasoned with different spices and have unique flavours. It is deep fried and munched as a snack. This is also served with soups in Karachi.
1 cup of urad dal flour (or split black lentil flour)
1/4 teaspoon of asafoetida (hing)
1/2 teaspoon of cumin seeds
1/2 teaspoon of black pepper
1/2 teaspoon of salt
1/4 cup of water
Vegetable oil for frying
In a large mixing bowl, combine the urad dal flour, asafoetida, cumin seeds, black pepper, and salt. Mix well.
Gradually add the water to the bowl, mixing the dough with your hands until it becomes smooth and firm.
Divide the dough into 6-8 equal-sized balls.
Sprinkle some flour on a flat surface and roll out each ball into a very thin circle, about 6-7 inches in diameter.
Heat a skillet or tawa over medium-high heat.
Place each rolled-out papar onto the hot skillet and cook for about 20-30 seconds on each side, or until they start to puff up and turn golden brown.
Remove the cooked papar from the skillet and place them on a plate lined with paper towels to remove any excess oil.
Repeat the process with the remaining portions of dough.
Allow the papar to cool completely before serving as a snack or appetizer with your favorite chutney or dip.
Enjoy your crispy and delicious homemade papar!
We are Open for everyone! if you are serving this food in your restaurant or cafe, and you are interested to advertise your restaurant or cafe, do contact us at info@pakistanatlas.com