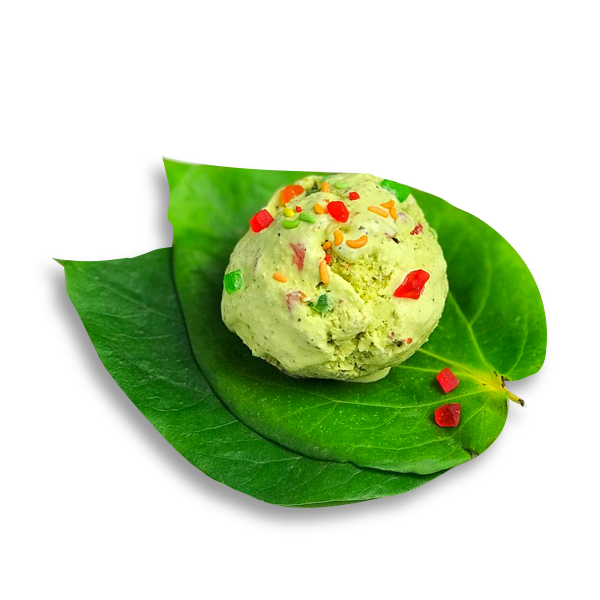 What a unique combination to opt for. The love for meetha paan and ice cream has a separate fan base. When these two elements are incorporated together, the product is just too tempting. Just the thought of it gives a soothing and refreshing effect. Pan Ice cream is available in Karachi's paan and ice cream shops. This dessert helps in digestion because of betel leaves (paan).
2 cups of heavy cream
1 cup of whole milk
1 cup of sugar
1/2 cup of paan leaves, chopped
1 tsp of fennel seeds
1/2 tsp of cardamom powder
1/4 tsp of nutmeg powder
1/4 tsp of rose water
Green food coloring (optional)
In a medium saucepan, combine the heavy cream, whole milk, and sugar.
Heat the mixture over medium heat, stirring constantly until the sugar has dissolved.
Add the chopped paan leaves, fennel seeds, cardamom powder, and nutmeg powder to the mixture.
Bring the mixture to a boil, then reduce the heat to low and let it simmer for 5-10 minutes, stirring occasionally.
Remove the pan from the heat and strain the mixture through a fine-mesh strainer into a large bowl.
Stir in the rose water and green food coloring, if using.
Cover the bowl with plastic wrap and chill the mixture in the refrigerator for at least 4 hours or overnight.
Once chilled, pour the mixture into an ice cream maker and churn according to the manufacturer's instructions.
Transfer the ice cream to a container and freeze for at least 2 hours or until firm.
Enjoy your delicious homemade paan ice cream! Serve it with some fresh paan leaves on top for an extra touch of authenticity.
We are Open for everyone! if you are serving this food in your restaurant or cafe, and you are interested to advertise your restaurant or cafe, do contact us at info@pakistanatlas.com