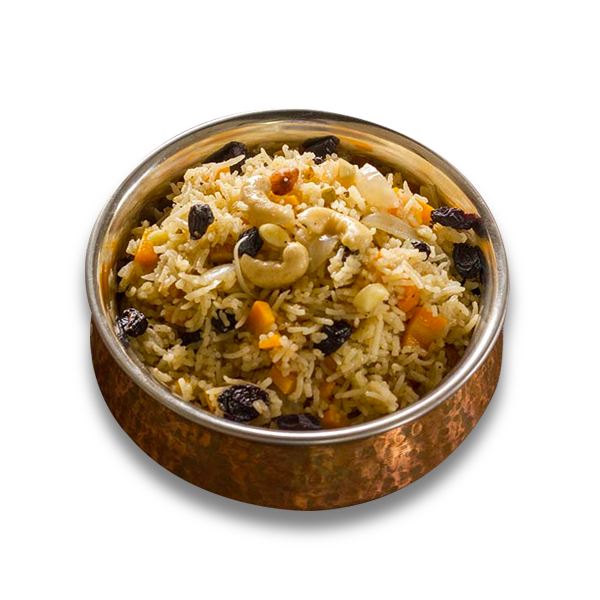 Modur Palao is a rich and aromatic sweet rice which is native to Kashmir. Kasmiri Modur Palao is made by using basmati rice. Basmati rice is cooked in a good amount of desi ghee. The rice has a lot of dry fruits and nuts which give it an amazing taste. Modur Palao is often served with with spicy gravy. This nutty and healthy Modur Palao is definitely something to try for.
1 cup basmati rice
2 tbsp. ghee or clarified butter
1/2 cup mixed dry fruits (almonds, cashews, raisins)
1/2 cup sugar
1/2 tsp. saffron strands
2-3 green cardamom pods, crushed
1 cinnamon stick
2 cups water
Rinse the basmati rice in cold water until the water runs clear. Soak the rice in cold water for at least 30 minutes.
In a large pot, heat the ghee or clarified butter over medium heat.
Add the mixed dry fruits (almonds, cashews, raisins) and sauté until they are golden brown.
Remove the dry fruits from the pot and set them aside.
Add the soaked and drained basmati rice to the pot and stir well.
Add the sugar, saffron strands, crushed green cardamom pods, and cinnamon stick to the pot.
Add 2 cups of water to the pot and stir everything together.
Bring the mixture to a boil over high heat, then reduce the heat to low and cover the pot with a lid.
Let the rice cook on low heat for 15-20 minutes, or until the water has been absorbed and the rice is tender.
Once the rice is cooked, remove the cinnamon stick and discard.
Fluff the rice with a fork and add the sautéed dry fruits.
Serve hot as a side dish with your favorite Indian curry.
Enjoy your delicious Modur Palao!
We are Open for everyone! if you are serving this food in your restaurant or cafe, and you are interested to advertise your restaurant or cafe, do contact us at info@pakistanatlas.com