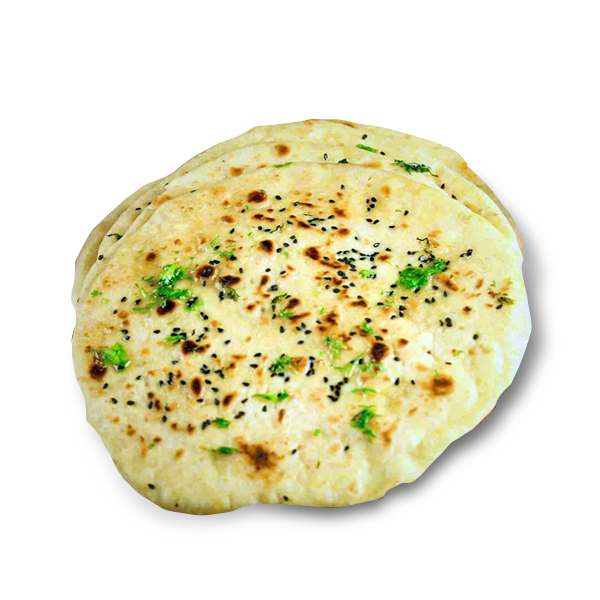 Kulcha is a very popular Pakistani soft leavened flat bread. Some people like plain Kulcha and others like stuffed vegetables kulcha. Kulcha can be eaten with different Pakistani curries and gravies. But, the best combo is chole (chickpeas) with Kulcha.
2 cups of all-purpose flour
1/2 cup of yogurt
1/4 cup of vegetable oil (plus extra for brushing)
1 teaspoon of sugar
1 teaspoon of salt
1 teaspoon of baking powder
1/2 teaspoon of baking soda
1/4 cup of warm water
1 tablespoon of nigella seeds (also known as kalonji)
Fresh coriander leaves (optional)
In a large mixing bowl, combine the all-purpose flour, sugar, salt, baking powder, and baking soda. Mix well.
Add the yogurt, vegetable oil, and nigella seeds to the dry ingredients. Mix well.
Gradually add the warm water to the mixture and knead until you have a soft and smooth dough.
Cover the dough with a damp cloth and let it rest for about 1 hour.
Preheat the oven to 450°F (230°C).
Divide the dough into 6 equal-sized balls.
Roll each ball into a round shape with a rolling pin.
Brush the top of each kulcha with a little bit of vegetable oil.
Place the kulchas on a baking sheet lined with parchment paper.
Bake the kulchas in the preheated oven for about 5-7 minutes, or until they turn golden brown and puffy.
Remove the kulchas from the oven and brush them with a little bit more vegetable oil.
Garnish the kulchas with fresh coriander leaves (optional) and serve hot with your favorite curry or chole.
Enjoy your delicious homemade kulcha!
We are Open for everyone! if you are serving this food in your restaurant or cafe, and you are interested to advertise your restaurant or cafe, do contact us at info@pakistanatlas.com
More Common foods in Pakistan