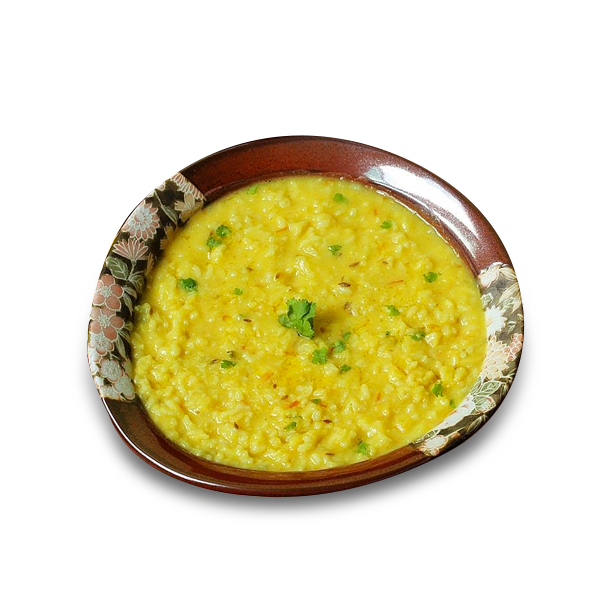 If you do not want to go for vegetables or meat, then the best healthy dish for you is khichdi. It is a mixture of rice and lentils with aromatic spices. This is well cooked and then granular paste is formed. Khichdi is served with dahi or chutney. This dish is light to eat and full of nutritions.
Basmati rice: 1 cup
Yellow split moong dal: 1/2 cup
Water: 4 cups
Ghee: 2 tablespoons
Cumin seeds: 1 teaspoon
Asafoetida (hing): 1/4 teaspoon
Turmeric powder: 1/4 teaspoon
Salt: to taste
Green chili pepper: 1, finely chopped (optional)
Fresh cilantro leaves: for garnish
Rinse the rice and dal in cold water until the water runs clear. Soak them together in enough water for 30 minutes.
Drain the water and add the rice and dal to a pressure cooker or a pot with 4 cups of water. Add salt and turmeric powder. Mix well.
If using a pressure cooker, cook on high heat for 2-3 whistles. If using a pot, bring to a boil and then reduce the heat to low. Cover and cook for 30-40 minutes, or until the rice and dal are soft and fully cooked.
In a separate pan, heat ghee over medium heat. Add cumin seeds and hing. When the seeds start to splutter, add the green chili pepper (if using). Fry for a few seconds until the chili pepper is lightly browned.
Add this mixture to the khichdi and mix well. Garnish with fresh cilantro leaves.
Your delicious khichdi is ready to serve. It is best served hot with a dollop of ghee or yogurt.
We are Open for everyone! if you are serving this food in your restaurant or cafe, and you are interested to advertise your restaurant or cafe, do contact us at info@pakistanatlas.com
More Common foods in Pakistan