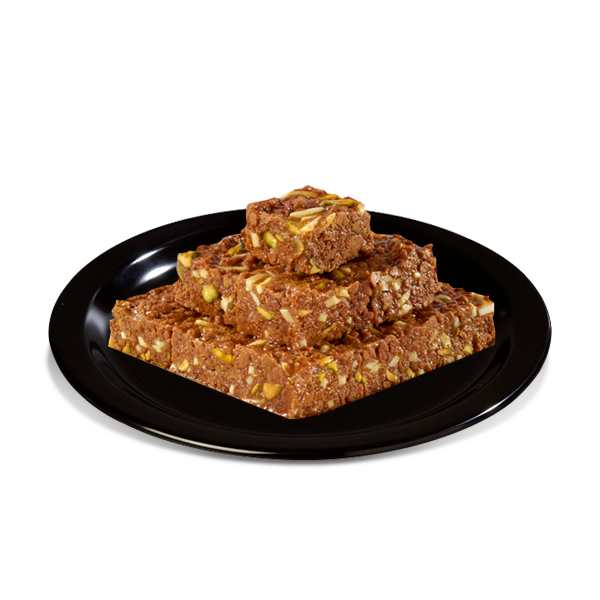 Habshi Halwa is a dark brown heavenly tasted Halwa. Habshi halwa is speciality of Multan. This halwa has a granular texture and kind of sticky in nature. Habshi halwa is made by curdling the milk with sprouted wheat and giving it the sweetness and aroma as it deserves. It requires a lot of time and patience to obtain the perfect consistency. Habshi halwa is given to each other as a gift when visited Multan.
1 cup black gram lentils (sabut urad dal)
2 cups water
2 cups sugar
1/2 cup ghee
1 tsp cardamom powder
1/4 cup almonds, chopped
1/4 cup pistachios, chopped
1/4 cup cashews, chopped
Rinse the black gram lentils in cold water and soak them overnight.
Drain the lentils and grind them in a blender or food processor with a little water until you get a smooth paste.
In a heavy-bottomed pot, heat ghee over medium heat. Add the lentil paste and fry for 10-15 minutes, stirring constantly, until it turns light brown and starts to leave the sides of the pot.
In another pot, heat 2 cups of water and sugar over medium heat. Cook until the sugar dissolves and you get a syrup.
Add the syrup to the lentil mixture, stirring constantly.
Add cardamom powder and continue cooking for another 10-15 minutes, stirring constantly, until the mixture thickens and starts to pull away from the sides of the pot.
Add chopped almonds, pistachios, and cashews to the mixture and mix well.
Grease a dish or tray with ghee and pour the mixture into it.
Let the Habshi Halwa cool down completely and set for a few hours before cutting it into pieces.
Serve and enjoy your delicious Habshi Halwa!
We are Open for everyone! if you are serving this food in your restaurant or cafe, and you are interested to advertise your restaurant or cafe, do contact us at info@pakistanatlas.com