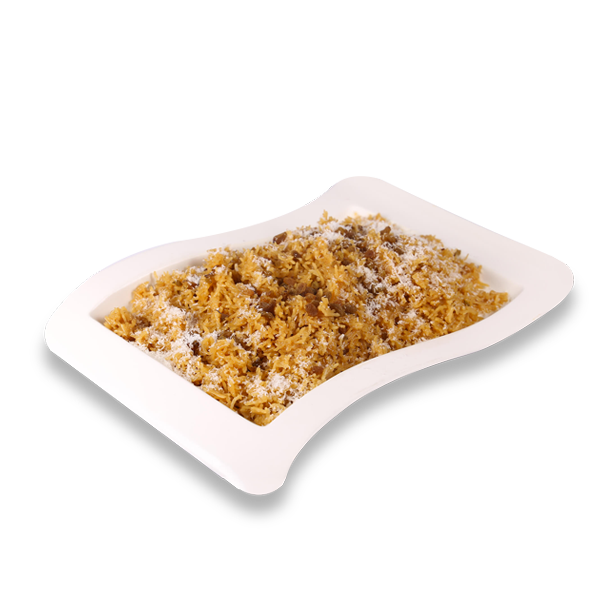 Gur walay chawal is a favourite sweet rice dish in Punjab. If you are fond of jaggery (gur) then this rice is a must try.Gur walay chawal are made by simmering the rice in jaggery syrup. This rice contains split grams (optional) as well which  is an amazing combination. The spices include fennel seed which gives mouthwatering aroma to the dish. This dish can easily be cooked at home so everyone should try this hot gur walay chawal.
1 cup Basmati rice
2 cups water
1/2 cup jaggery (gur), grated or crushed
2 tbsp ghee (clarified butter)
1 cinnamon stick
2 green cardamom pods
2 cloves
1/4 tsp salt
1/4 cup raisins
1/4 cup almonds, sliced
Rinse the rice in cold water and soak it for 30 minutes.
In a pot, heat ghee over medium heat. Add cinnamon stick, green cardamom pods, and cloves. Fry for 1 minute.
Add the drained rice to the pot and fry for 2-3 minutes, stirring occasionally.
Add water and salt to the pot and bring it to a boil.
Reduce heat to low, cover the pot, and let the rice cook for about 15-20 minutes, or until the water is fully absorbed and the rice is cooked through.
In a separate pan, melt jaggery with a little water to form a syrup.
Once the rice is cooked, pour the jaggery syrup over it and mix well.
Add raisins and sliced almonds to the pot, mix again, and let it cook for another 2-3 minutes over low heat.
Turn off the heat and let the rice sit for 5 minutes before serving.
Garnish with more sliced almonds if desired and serve hot.
Enjoy your delicious Gur Walay Chawal!
We are Open for everyone! if you are serving this food in your restaurant or cafe, and you are interested to advertise your restaurant or cafe, do contact us at info@pakistanatlas.com