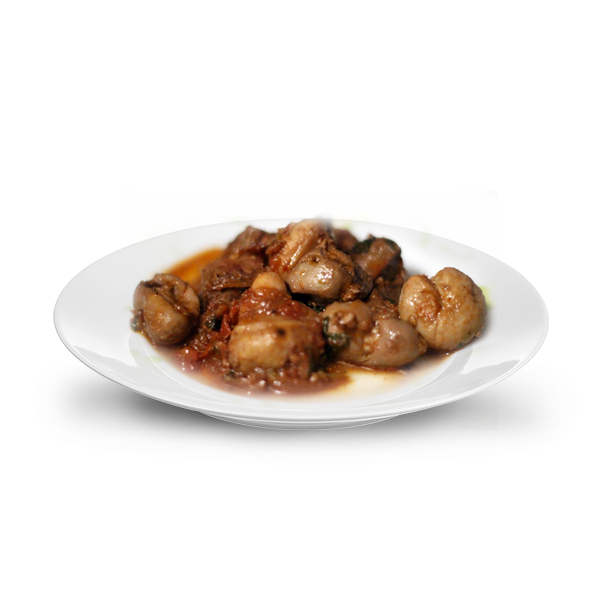 Gurday Kapooray (Kidney and testicles) are widely eaten in Lahore. The are cooked as a part of kata kat at different shacks and dhabas. Gurday kapooray are finely chopped and cooked with two sharp knives on the griddle. It is garnished with green chillies and green corianders. It tastes different from all the desi meat dishes. It is more liked by Pakistani men when they sit in a gathering of friends. It is served hot with chapati.
1 lb lamb kidneys, cleaned and cut into small pieces
1/2 lb lamb testicles, cleaned and cut into small pieces
1 onion, finely chopped
2 tomatoes, finely chopped
1 tablespoon ginger paste
1 tablespoon garlic paste
2-3 green chilies, finely chopped
1 tablespoon cumin powder
1 tablespoon coriander powder
1 teaspoon red chili powder
1 teaspoon turmeric powder
1 teaspoon garam masala powder
Salt to taste
2-3 tablespoons oil
Fresh coriander leaves, chopped for garnish
In a large pan, heat oil and add finely chopped onions. Saute until they turn golden brown.
Add ginger and garlic paste to the pan and cook for 2-3 minutes.
Add chopped tomatoes to the pan and cook until they turn mushy.
Add all the spices, including cumin powder, coriander powder, red chili powder, turmeric powder, and garam masala powder. Mix well.
Add the lamb kidneys and testicles to the pan and mix with the spice mixture. Cook for a few minutes until they are lightly browned.
Add enough water to the pan to cover the lamb kidneys and testicles. Season with salt and stir well.
Cover the pan with a lid and cook on medium heat for about 30-35 minutes or until the lamb kidneys and testicles are fully cooked and tender.
Once done, turn off the heat and garnish with fresh coriander leaves.
Your delicious Gurday Kapooray is now ready to serve with naan bread or steamed rice. Enjoy!
We are Open for everyone! if you are serving this food in your restaurant or cafe, and you are interested to advertise your restaurant or cafe, do contact us at info@pakistanatlas.com