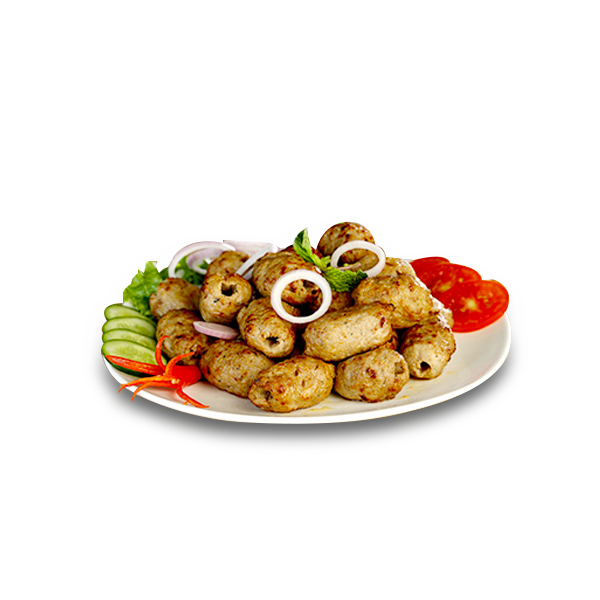 Gola kabab are oval shaped kabab which are prepared on skewers. Gola kabab is a succulent kabab with all the perfect spices. These kababs are juicy and tender to eat. It is grilled on charcoal and is available in all the restaurants throughout Pakistan. Mint raita and hari chutney complements it a lot.
Beef mince: 1 kg
Onion: 1 medium, finely chopped
Ginger-garlic paste: 2 tbsp
Green chilies: 3-4, finely chopped
Coriander leaves: 2 tbsp, chopped
Cumin powder: 1 tsp
Coriander powder: 1 tsp
Red chili powder: 1 tsp
Salt: 1 tsp
Lemon juice: 1 tbsp
Egg: 1, beaten
Oil: for frying
In a large bowl, mix together the beef mince, onion, ginger-garlic paste, green chilies, coriander leaves, cumin powder, coriander powder, red chili powder, salt, and lemon juice. Mix well until all ingredients are fully combined.
Divide the mixture into equal-sized portions and shape them into round kababs.
Heat oil in a frying pan over medium heat. Dip each kabab into the beaten egg and fry until golden brown and cooked through, about 4-5 minutes on each side.
Serve hot with chutney or raita.
Your delicious Gola Kababs are ready to enjoy!
We are Open for everyone! if you are serving this food in your restaurant or cafe, and you are interested to advertise your restaurant or cafe, do contact us at info@pakistanatlas.com
More Common foods in Pakistan