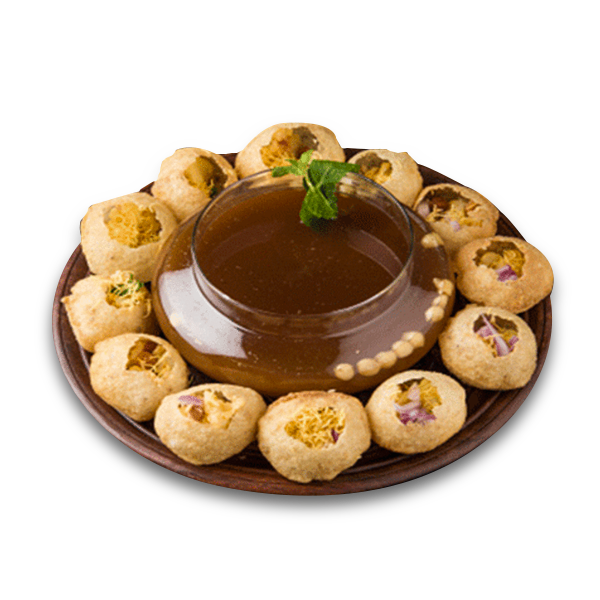 Gol gappay top the list when we talk about mouthwatering snacks. They have  tangy and spicy flavours in them. Gol gappay are basically thin crispy balls which are poked. Chickpeas, potatoes, tamarind and spices are put in those balls and dipped in the hot and zesty water mixture. Each ball has to be eaten quickly at one shot. This is the fun and challenging part. This snack is more famous among the girls. Best Gol gappay can be found in Lahore, Islamabad and Karachi.
For the puris:
1 cup semolina (sooji)
1/2 cup all-purpose flour
1/2 teaspoon salt
Water, as needed
Oil, for deep frying
For the filling:
2 potatoes, boiled and mashed
1 onion, finely chopped
2 green chilies, finely chopped
1/2 teaspoon chaat masala
1/2 teaspoon cumin powder
1/2 teaspoon red chili powder
Salt, to taste
For the tamarind water:
1/2 cup tamarind pulp
4 cups water
1 tablespoon roasted cumin powder
1 tablespoon chaat masala
1 teaspoon red chili powder
Salt, to taste
In a mixing bowl, combine the semolina, all-purpose flour, and salt. Gradually add water and knead the dough until it becomes smooth and pliable.
Cover the dough and let it rest for 30 minutes.
Divide the dough into small balls and roll them out into thin circles.
Heat oil in a deep frying pan. Fry the puris until they turn golden brown and crisp.
Drain the puris on a paper towel and let them cool.
For the filling, mix the mashed potatoes with onions, green chilies, chaat masala, cumin powder, red chili powder, and salt. Mix well and set aside.
For the tamarind water, mix the tamarind pulp, water, roasted cumin powder, chaat masala, red chili powder, and salt. Mix well and set aside.
To assemble the Gol Gappay, gently make a small hole in the center of the puri with your finger. Fill it with a spoonful of the potato mixture.
Dip the filled puri in the tamarind water and pop it into your mouth.
Serve the Gol Gappay immediately and enjoy the burst of flavors in your mouth. You can also serve additional tamarind water and potato mixture on the side.
We are Open for everyone! if you are serving this food in your restaurant or cafe, and you are interested to advertise your restaurant or cafe, do contact us at info@pakistanatlas.com