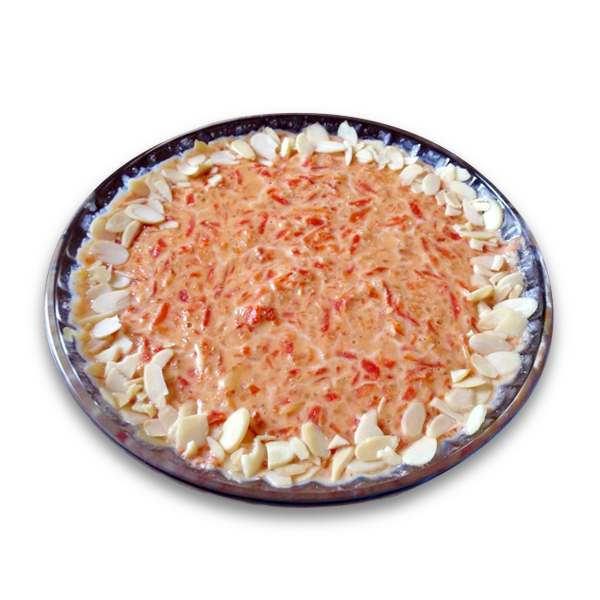 Gajrela is a Punjabi sweet dish made of grated carrots. Gajrela is especially cooked in the winter season. It is the best hot treat of chilly nights. Carrots are grated and cooked in milk till the milk dries. It is sweet and full of nuts. Gajrela are available in different sweet shops and bakeries. Gajrela can also be cooked at home and it turns out to be delicious.
kg of carrots, peeled and grated
1 litre of whole milk
1 cup of sugar (adjust to taste)
1/2 cup of ghee
1/4 cup of chopped nuts (almonds, pistachios, cashews)
1/4 teaspoon of cardamom powder
A pinch of saffron (kesar) strands
2 tablespoons of raisins (optional)
Heat ghee in a heavy-bottomed pan on medium heat.
Add the grated carrots and sauté them for 10-12 minutes, stirring occasionally until they soften and change color.
Add milk to the pan and bring it to a boil. Reduce the heat to low and let it simmer for about 45-50 minutes or until most of the milk has been absorbed by the carrots, stirring occasionally.
Add the sugar and mix well. Continue to simmer on low heat until the mixture thickens and the sugar has dissolved completely.
Add the cardamom powder, saffron strands, and chopped nuts. Stir well.
If using, add the raisins and let it simmer for another 5-7 minutes.
Turn off the heat and let the gajrela cool for a few minutes.
Garnish with more chopped nuts and serve warm or chilled.
Enjoy your delicious and comforting Gajrela!
We are Open for everyone! if you are serving this food in your restaurant or cafe, and you are interested to advertise your restaurant or cafe, do contact us at info@pakistanatlas.com