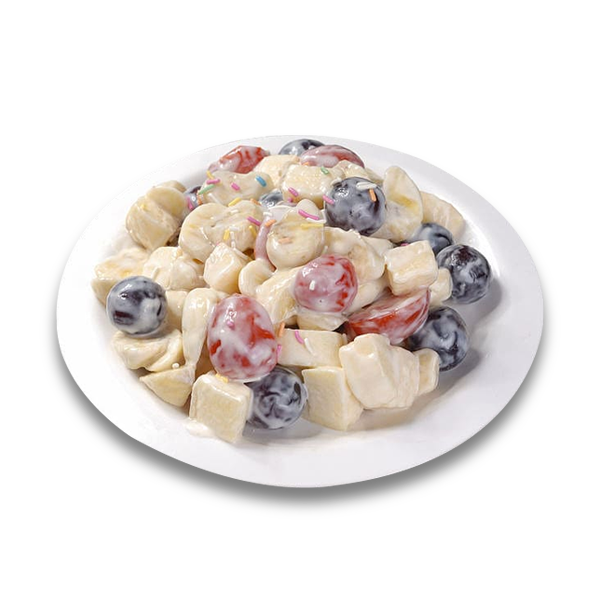 Creamy fruit chaat is refreshing street food item of Lahore and Karachi. Different fruits are cut into pieces and mixed with sweetened creamy mixture. Fruit chaat are easily available in restaurants and stalls. Some bakeries also serve this chaat.
2 cups mixed fruits (pineapple, apple, banana, pomegranate, mango, etc.), chopped
1/2 cup plain yogurt
2 tbsp mayonnaise
1 tsp honey
1/4 tsp salt
1/4 tsp black pepper powder
1/4 tsp chaat masala
1/4 cup roasted peanuts or cashews (optional)
In a mixing bowl, add chopped fruits and mix well.
In a separate bowl, add plain yogurt, mayonnaise, honey, salt, black pepper powder, and chaat masala. Mix well to make a smooth dressing.
Add the dressing to the fruits and mix well until all the fruits are coated with the dressing.
Add roasted peanuts or cashews (if using) and mix well.
Chill the Creamy Fruit Chaat in the refrigerator for 15-20 minutes before serving.
Serve the Creamy Fruit Chaat cold and enjoy this delicious and healthy snack!
Note: You can use any combination of fruits of your choice. Adjust the sweetness and spice levels according to your taste. You can also add some chopped fresh mint leaves or coriander leaves to add some freshness to the dish.
We are Open for everyone! if you are serving this food in your restaurant or cafe, and you are interested to advertise your restaurant or cafe, do contact us at info@pakistanatlas.com