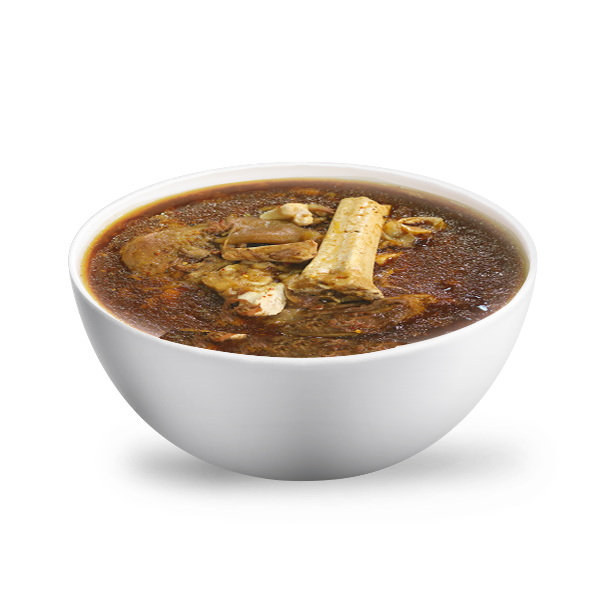 Its a famous Lahori breakfast. A traditional combination of beef/mutton shank (bong) and its trotters(paye). People enjoy taking out the bone marrow (nalli) from the trotters and eat it with naan/roti (flatbread). Some people love to suck nalli directly from the paye. For the richness in taste, its cooked overnight and have it in breakfast. Bong Paye is one of the top nashtas for meat lovers.
2 lbs. mutton or beef shank with bone (paye)
2 onions, sliced
1 tbsp. ginger paste
1 tbsp. garlic paste
2 tomatoes, chopped
2 tsp. salt (or to taste)
1 tsp. red chili powder
1 tsp. coriander powder
1 tsp. cumin powder
1 tsp. garam masala powder
Water
Fresh ginger and green chilies, chopped (for garnishing)
Wash the mutton or beef shank thoroughly with cold water.
In a large pot, boil enough water to cover the shank. Once the water is boiling, add the shank and cook for 5-7 minutes. Drain the water and rinse the shank.
In a separate pot, heat the oil over medium heat. Add the onions and cook until they are golden brown.
Add the ginger paste and garlic paste, and cook for 2-3 minutes.
Add the chopped tomatoes and cook until they are soft and mushy.
Add the shank to the pot and mix well with the onion and tomato mixture.
Add the salt, red chili powder, coriander powder, cumin powder, and garam masala powder. Mix well.
Add enough water to cover the shank and bring the mixture to a boil.
Once it comes to a boil, reduce the heat to low and let it simmer for 3-4 hours, or until the shank is tender and the gravy has thickened.
Serve hot, garnished with fresh ginger and green chilies. It is usually served with naan or roti.
Enjoy your delicious Paye with mutton or beef shank!
We are Open for everyone! if you are serving this food in your restaurant or cafe, and you are interested to advertise your restaurant or cafe, do contact us at info@pakistanatlas.com