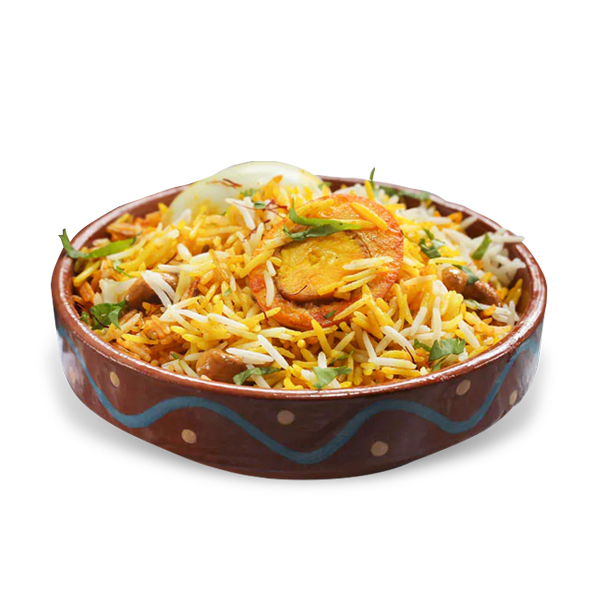 Biryani ( chicken, Beef, mutton, Nalli )
One food for which Pakistan is definitely known worldwide is Biryani. Biryani is the No. 1 food of Pakistan. It was originated by the Muslims of sub continent. Biryani is must served in any kind of gatherings wether its a happy one or sad one. Every city of Pakistan has love for it. A spicy chicken, beef or mutton gravy is added to the boiled rice and garnished with mint leaves, green chillies and lemon. The taste of biryani varies according to the cities. If one wants to taste the real goodness of Biryani, he should try this dish in Karachi. All the restaurants serve biryani in Karachi. Its also available on stalls of Karachi streets. There are different types of Biryani for example Sindhi Biryani (known for its spicy taste), Hyderabadi Biryani, Mughlai Biryani, Bohri Biryani etc. Lahore is famous for its Daigi Biryani. One of the differences between Karachi and Lahore Biryani is that Karachi's Biryani include aalo in it and lahore's biryani does not. Trust me, it can make a huge difference between both the cities. (Joking)
Nalli (Bone Marrow) Biryani is one of its own kind. It is also served in Karachi and people are crazy for the nalli that comes out of the bone of cow or goat. Nalli complements the biryani a lot and is a win win dish everytime for meat lovers.
A plate of salad and freshly beaten yogurt (raita) goes very well with biryani.
For the chicken:
1 lb chicken, cut into small pieces
1/2 cup yogurt
1 tbsp ginger-garlic paste
1 tsp red chili powder
1 tsp cumin powder
1 tsp coriander powder
1/2 tsp turmeric powder
Salt, to taste
2 tbsp vegetable oil
For the rice:
2 cups basmati rice, rinsed and soaked for 30 minutes
1 large onion, thinly sliced
2-3 green chilies, chopped
2 bay leaves
4-5 cloves
4-5 green cardamom pods
1 cinnamon stick
1 tsp cumin seeds
1 tsp coriander seeds
1/2 tsp black pepper
Salt, to taste
4 cups water
For assembly:
1/4 cup chopped cilantro
1/4 cup chopped mint leaves
1/2 cup fried onions
2 tbsp ghee or butter
In a large bowl, mix together the chicken, yogurt, ginger-garlic paste, red chili powder, cumin powder, coriander powder, turmeric powder, salt, and vegetable oil. Cover the bowl with plastic wrap and refrigerate for at least 2 hours, or overnight for best results.
In a large pot or Dutch oven, heat some oil over medium heat. Add the sliced onions and cook until they turn golden brown and crispy. Remove the onions from the pot and set aside.
In the same pot, add the green chilies, bay leaves, cloves, cardamom pods, cinnamon stick, cumin seeds, coriander seeds, black pepper, and salt. Cook for 1-2 minutes, or until fragrant.
Add the soaked rice to the pot and stir well to coat it with the spices. Add 4 cups of water and bring to a boil. Reduce the heat to low, cover the pot, and simmer for 10-12 minutes, or until the rice is almost cooked.
In a separate pan, cook the marinated chicken over medium heat until it is browned and cooked through.
Once the rice is almost cooked, remove the pot from the heat and let it rest for 5 minutes.
To assemble the biryani, spread half of the rice in the bottom of a large pot or oven-safe dish. Add the cooked chicken on top of the rice, and then cover the chicken with the remaining rice.
Drizzle the ghee or butter over the rice and sprinkle with the fried onions, chopped cilantro, and chopped mint leaves.
Cover the pot tightly with a lid or foil and bake in the oven at 350°F for 15-20 minutes, or until the biryani is heated through and the flavors have melded together.
Serve hot with raita and naan bread. Enjoy your delicious Chicken Biryani!
We are Open for everyone! if you are serving this food in your restaurant or cafe, and you are interested to advertise your restaurant or cafe, do contact us at info@pakistanatlas.com