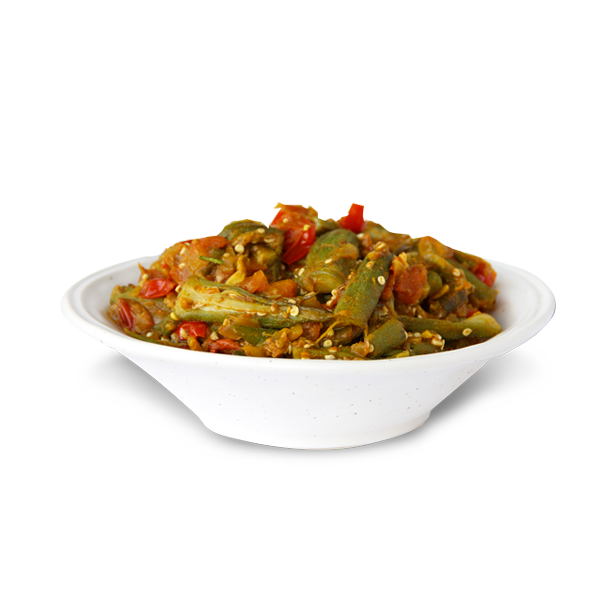 Bhindi (ladyfingers) is full of nutrients and fiber. It has a low calorie count and is different from other vegetables due to its taste. Bhindi masala is the popular way of cooking lady fingers in Pakistan. It is the most favourite vegetable of Pakistanis. It is commonly home made but can also be available in some restaurants. It is served with garma garam chapati.
Bhindi: 500g, chopped into small pieces
Oil: 2 tablespoons
Onion: 1 large, finely chopped
Garlic: 4 cloves, minced
Ginger: 1-inch piece, grated
Tomatoes: 2 medium-sized, finely chopped
Turmeric powder: 1/4 teaspoon
Coriander powder: 1 teaspoon
Cumin powder: 1 teaspoon
Red chili powder: 1/2 teaspoon
Garam masala powder: 1/2 teaspoon
Salt: to taste
Fresh cilantro leaves: for garnish
Heat oil in a pan over medium heat. Add onions and fry until they are golden brown.
Add garlic and ginger. Fry for a few seconds until fragrant.
Add chopped bhindi and mix well. Fry for 5-7 minutes until the bhindi is lightly browned and cooked.
Add chopped tomatoes and mix well. Cook until the tomatoes are soft and have formed a thick sauce.
Add turmeric powder, coriander powder, cumin powder, red chili powder, garam masala powder, and salt. Mix well.
Cover the pan with a lid and let the bhindi masala cook on low heat for 10-15 minutes, stirring occasionally. Add a little water if the masala is too dry.
Garnish with fresh cilantro leaves and serve hot with chapatis or rice.
Your delicious bhindi masala is ready to serve. Enjoy!
We are Open for everyone! if you are serving this food in your restaurant or cafe, and you are interested to advertise your restaurant or cafe, do contact us at info@pakistanatlas.com
More Common foods in Pakistan