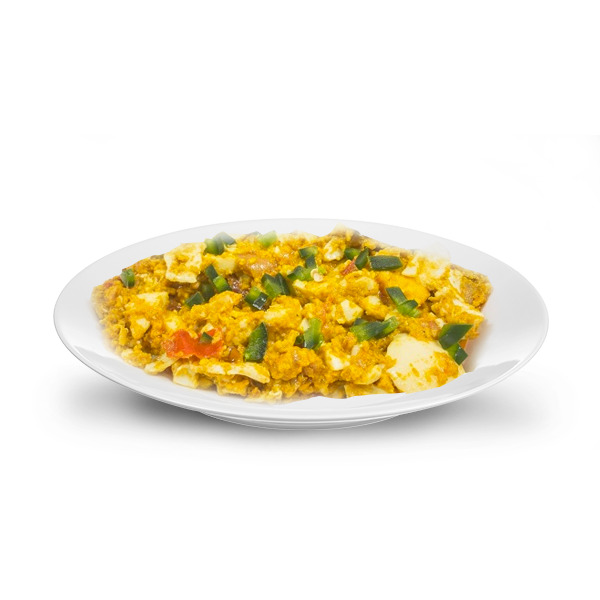 There are numerous ways of cooking eggs. Fried eggs, omelette, scrambled eggs but we Pakistani spice up the eggs with green chillies, red chillies, salt and mixed with tomatoes, onions and other vegetables and gave it a name: Anda Ghutala. All the ingredients are mixed together and cooked for a longer time as compared to normal egg recipes.  This can be eaten with flatbread, bread or Paratha. This desi dish is mostly cooked in home.
4 eggs
1 tablespoon oil or ghee
1 onion, finely chopped
2 tomatoes, finely chopped
1 green chilli, finely chopped
1/4 teaspoon turmeric powder
1/4 teaspoon red chilli powder
1/4 teaspoon cumin powder
1/4 teaspoon coriander powder
Salt to taste
Chopped coriander leaves for garnish
In a bowl, whisk the eggs with a pinch of salt and keep aside.
Heat oil or ghee in a pan over medium heat.
Add the chopped onion and sauté until golden brown.
Add the ginger-garlic paste and sauté until the raw smell goes away.
Add the chopped tomatoes, green chilli, turmeric powder, red chilli powder, cumin powder, coriander powder, and salt. Mix well and cook for 2-3 minutes or until the tomatoes are soft and cooked.
Add the whisked eggs to the pan and scramble until cooked through.
Keep stirring occasionally and cook for 5-6 minutes or until the eggs are fully cooked.
Garnish with chopped coriander leaves and serve hot with toasted bread.
Note: You can adjust the spiciness of the dish by adding more or less chilli powder or green chilli. You can also add diced bell peppers or mushrooms for additional flavour and nutrition.
We are Open for everyone! if you are serving this food in your restaurant or cafe, and you are interested to advertise your restaurant or cafe, do contact us at info@pakistanatlas.com
More Common foods in Pakistan