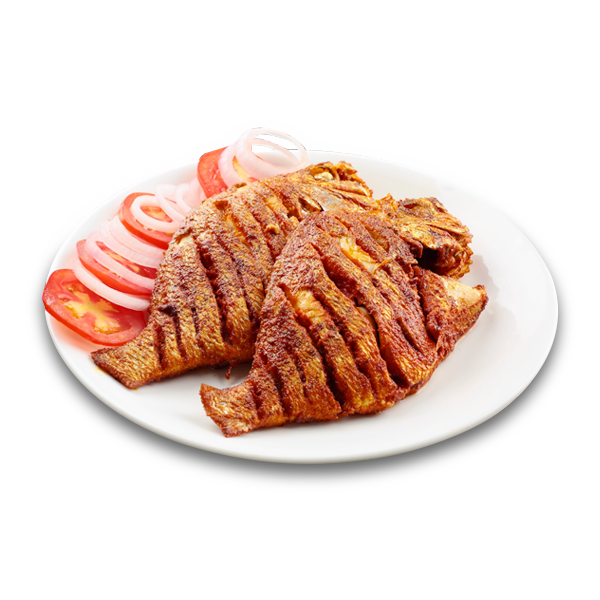 Paplet Machli (Pomfret Fish) is a sea water fish and is the most favourite table fish in Karachi. It has single bone and thats why children also like to eat it. It can be cooked whole and sometimes pieces are done. It can be shallow fried or grilled. This fish tastes yummy when incorporated in biryani. It is very rich and nutritious. It is available in all the restaurants and Karachiites also go to fish market and buy it. It is cooked by the housewives in homes as well. It tastes great when cooked fresh.
2 pomfret fish, cleaned and sliced
1 tablespoon ginger-garlic paste
1 teaspoon turmeric powder
2 teaspoons red chili powder
2 teaspoons coriander powder
Salt to taste
2 tablespoons oil
2 tablespoons lemon juice
Fresh coriander leaves, chopped for garnishing
In a bowl, mix ginger-garlic paste, turmeric powder, red chili powder, coriander powder, salt, and lemon juice to make a marinade.
Apply the marinade to the fish pieces, making sure they are coated well. Let the fish marinate for at least 30 minutes.
Heat the oil in a pan over medium heat. Once the oil is hot, add the marinated fish pieces and fry them for about 3-4 minutes on each side or until golden brown.
Remove the fish from the pan and place them on a serving plate.
Garnish with fresh coriander leaves and serve hot with steamed rice or your choice of sides.
Enjoy your delicious paplet fish!
We are Open for everyone! if you are serving this food in your restaurant or cafe, and you are interested to advertise your restaurant or cafe, do contact us at info@pakistanatlas.com