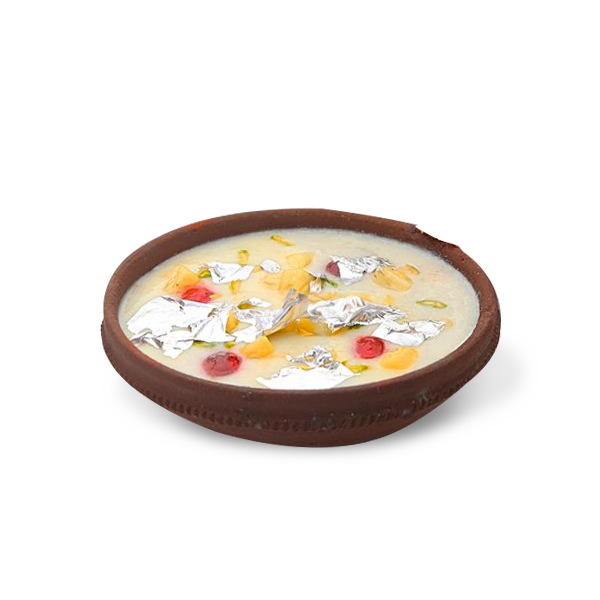 Gil e Firdaus is an appetising dessert that one can never forget. This is a special sweet dish of Karachi and Hyderabad. Gil e Firdaus is a rice and sabudana pudding. Rice and sabudana are cooked in condensed milk with bottle gourd. It is falvoured with rose water, sugar and cardamom. Gil e firdaus is made on special occasions. It is served in earthen dishes to enhance its appearance.
2 cups of grated bottle gourd (lauki)
4 cups of whole milk
1/2 cup of Sabudana
1/2 cup of sugar
1/4 cup of ghee
1/4 cup of chopped almonds
1/4 cup of chopped pistachios
1/4 cup of raisins
1 tsp of cardamom powder
1/2 tsp of saffron strands
1 tsp of rose water
In a large pan, heat the ghee over medium heat.
Add the grated bottle gourd to the pan and sauté for 5-6 minutes or until it softens.
Add the milk and sabudana to the pan and bring it to a boil.
Reduce the heat to low and let the mixture simmer for 30-40 minutes, stirring occasionally, or until the milk has reduced and thickened.
Add the sugar, chopped almonds, chopped pistachios, and raisins to the pan and stir well.
Add the cardamom powder and saffron strands to the pan and stir well.
Let the mixture cook for another 5-10 minutes or until the sugar has dissolved and the flavors have infused.
Add the rose water to the pan and stir well.
Remove the pan from the heat and let it cool to room temperature.
Chill the mixture in the refrigerator for at least 1 hour before serving.
Garnish with additional chopped nuts and saffron strands before serving, if desired.
Enjoy your delicious homemade Gil-e-firdaus!
We are Open for everyone! if you are serving this food in your restaurant or cafe, and you are interested to advertise your restaurant or cafe, do contact us at info@pakistanatlas.com